Fastest row across the Atlantic-world record set by La Mondiale

[Jan 18]PORT ST CHARLES,Barbados--A team of British and Irish rowers has broken a world record for the fastest row across the Atlantic.

The vessel set sail from Gran Canaria on December 15 last year, reaching dry land exactly 33 days, seven hours and 30 minutes later.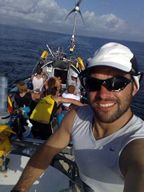 The 14-strong crew of La Mondiale reached Port St Charles in Barbados at 8.40pm Thursday, smashing the previous record by more than two days.
(click to enlarge)

The rowers, captained by Scottish adventurer Leven Brown, were also the first to cover over 100 miles a day for nine consecutive days.

Mr Brown said the voyage had been full of incident: "A couple of big waves came over the boat causing some of our guys to be thrown from their rowing seats. It was fortunate they were tied in."

The crew also suffered a multitude of physical problems, including a couple of head injuries, lots of pulled muscles, blisters and small salt water sores on the buttocks.


Mr Brown, 35, who believes he is descended from Christopher Columbus, already holds the record for rowing solo across the Atlantic.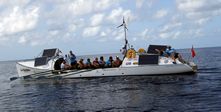 Mr Brown renovated La Mondiale after buying it from the French team who had set the previous record in 1992. His team worked in pairs, rowing two hours on and two hours off.
(click to enlarge)

The 53-foot boat was racing head-to-head with a US vessel called Orca, which left the Canaries at the same time but was delayed by technical problems.

The former stockbroker, who sold his flat and car to fund the challenge, was joined in his celebrations by his 15-month-old daughter Pickle.

"I am very wobbly," he said. "But it is a great feeling, it's fantastic. I'm off the boat, my daughter is in my arms, it's wonderful."

His partner Yvette Jelfs said they had put "everything" into the record. The 41-year-old, from Staunton-on-Wye, Herefordshire, said: "I can't believe that they've actually managed it. "

Leven took on a boat that was just an empty hull; a lot of people said it was impossible and kept running Leven down, but he's a very steady person and has just carried on and on until he achieved it."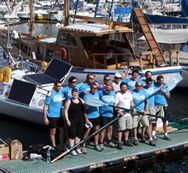 Mr Brown's crew are Peter Donaldson, 48, from Dublin;
Mike Tooth, 49, from Norwich; Julian Barnwell, 40, from Wroxham, Norfolk; Reinhardt Von Hof, 30, from Edinburgh; Ray Carroll, 31, from Dublin; Charlie Taylor, 31, from Southwold, Suffolk;
Stuart Kershaw, 27, from Liverpool; Don Lennox, 40, from Bellshill near Glasgow; Oliver Dudley, 31, from Liverpool;
Rob Loder-Symonds, 36, from Edinburgh; PJ Luard, 30, from London; Jamie Walker, 33, from London, and Liam Hughes, 52, from Windham, Suffolk.
(click to enlarge)

Having recently relocated to Norfolk with his wife and 14-month-old daughter, Mr Brown said he may now turn his thoughts to the North Atlantic rowing record. He has expeditions planned for the Indian and Pacific oceans and the South Pole.

Sixty previous attempts have failed to better the 3,000 mile time set by the French, of 35 days, eight hours and 30 minutes.
[ Submit a world record ] [ World Record Certificate]
[ Book of World Records ] [ World Records Store ] [ Club ]



Fastest Jump Shooter in Billiards-Rocky Lane


Largest miniature railroad-Miniatur Wunderland


Fastest race around the 'World'-Rohan Veal