Most People Playing Domino-world record set by World Domino Championship

Largest Domino tournament-world record set by Old Spice Domino Tournament

[March 18]MIAMI, FL, USA--The Old Spice Domino Tournament, held at the popular Miami Calle Ocho Festival on Sunday, brought together a total of two hundred seventy eight domino players and enthusiasts, and set the world record for the largest Domino Tournament.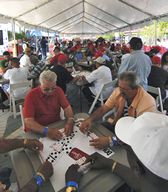 Photo:Calle Ocho Festival in Miami hosted the largest domino tournament with 278 players celebrated its inception into the Book of World Records for most people playing dominos in a single place. Photo by GASTON DE CARDENAS / El Nuevo Herald
(enlarge photo)

"Although dominos have long been a cherished pastime among many cultures, we have seen a resurgence in recent years as evidenced by the hundreds of new domino clubs, national televised tournaments and celebrity matches," said Manuel Oquendo, president, USA Domino Federation.

Local personalities, including Univision Network's popular morning show co-host Raul Gonzalez and La Kalle 98.3's energetic DJ Lazaro Lorenzo, joined the hundreds of people who took part in the historical event for the Latino community.

True to the game's competitive yet friendly nature, the Old Spice Domino Tournament at Calle Ocho brought together families, friends and strangers alike who sweated-it-out in the Miami heat for five hours to play dominos and set the world record at one of the largest Latino street festivals in the world.

"Just like the game of dominos, Old Spice has a deep, iconic heritage and we support all of the tournament participants who worked and sweated hard to help us make history," said Rodrigo Coronel, assistant brand manager, Old Spice. "Dominos have long been an essential part of the Latino life and culture, so it made sense to take this game to the next level and attempt to achieve a World Record."

About Calle Ocho
Hosted by the Kiwanis Club of Little Havana, Calle Ocho is one of the largest Latino street festivals in the world with more than one million visitors attending every year. For one exciting day, the Calle Ocho Festival fills 23 blocks in Miami's Little Havana area with Latin entertainment, street performers and international foods.