Tuesday, March 13, 2012

Biggest ocean wave surfed in a kayak: Tao Berman sets world record (Video)

Nellscott Reef, OR, USA--Tao Berman, an extreme kayaker, surfed a 40-foot wave at the Nellscott Reef off the Oregon coast , setting the world record for the Biggest ocean wave surfed in a kayak, according to World Record Academy: http://www.worldrecordacademy.com/.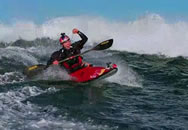 (enlarge photo)

The Guinness world record for the largest wave successfully surfed had a face estimated at 23.4 m (77 ft) in height. It was ridden by Mike Parsons (USA) at Cortes Bank, an underwater mountain range situated 160 km (100 miles) off the coast of southern California, USA.

Guinness World Records also recognized the world record for the record for the most surfers riding a single surfboard, set by 47 people who simultaneously rode a scaled up surfboard measuring 12 m (39 ft 4 in) in length at Snapper Rocks, Queensland, Australia.

The footage (see video below) shows Berman, the man who, according to Wide World Magazine, has been called the "Michael Jordan of extreme kayaking," being towed out into the ocean in a specialized boat by a jet ski.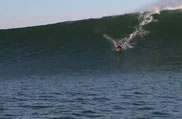 (enlarge photo)

He is shown catching the wave, a 40-foot monster he successfully rides. Berman, after his latest extreme kayak accomplishment, announced his retirement from paddling.

Daily Mail reports Berman said that he stopped, after his last accomplishment, and asked himself, what's the next challenge?

"I haven't come up with one," he said, "so I've decided that this is my last project. I'm retiring from paddling."

Related world records:
Longest Kitesurfing Distance in 24 Hours: Rimas Kinka sets world record

Largest wave ever surfed: Garrett McNamara sets world record (Video)

Largest aqua aerobic display: Bosnians break Guinness world record

Largest gathering of bodyboarders: Portugal (Video)

Longest nonstop paddleboard voyage: Cynthia Aguilar (Video)

Longest solo unassisted ocean swim: Penny Palfrey (HD Video)

Blind water-skier Steve Thiele sets new blindfolded distance record

Longest surf ride: Gary Saavedra (Video)

Longest surf session: Bill Laity

Longest Apnea in a Cave: Carlos Coste

Longest Open Saltwater Scuba Dive: Ivan Zhelezarov

Completing most watersports in a day: Guy Cribb

Deepest free immersion dive: William Trubridge

Most Water Skiers Behind a Boat: Horsehead Waterski Club

Longest Open Saltwater Scuba Dive: Will Goodman

Longest swim: Martin Strel

Most people in a cold water swim: Long Beach Polar Bears

Longest swim in a lagoon: Mauro Giaconia

Youngest relay team to swim the English Channel:English swimmers

Most miles paddled in 24 hours on Stand Up Paddle Board: Justin DeBree

Longest Stand Up Paddle board journey: Justin DeBree

Fastest row across the Atlatinc: La Mondiale

Unassisted free diving world record: William Trubridge

Freediving World Record

Longest paddleboard journey set three world records

Tuesday, March 13, 2012 8:35 AM