Tuesday, April 5, 2011

Smallest Apartment: Tiny Manhattan Apartment sets world record

NEW YORK CITY, USA -- Felice Cohen, 40, a professional organizer, has spent three years living in a 8.3 square meters (90 sq ft) room in New York's Upper West Side - which sets the world record for the Smallest Apartment.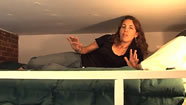 Photo: By choosing a studio that measures just 12 feet by 7 feet, Felice Cohen can afford to live in Manhattan's Upper West Side where apartments rent for an average of $3,600 per month. She pays just over $700 for her 90-square-foot microstudio. After a bit of adjustment she now loves living smaller, simpler and cozier. Photo courtesy: Fair Companies (enlarge photo)

The Guinness world record for the smallest permanent licensed bar in the world is called the 'Smallest Whisky Bar on Earth' and has a total floor area of 8.53 m² (91.82 ft²).The bar owned by Gunter Sommer (Switzerland) is in Sta. Maria, Graubünden, Switzerland.

Guinness World Records also recognized the Smallest cinema by seat capacity: it has 9 seats. The Palastkino on Bahnhofstraße, Radebeul, Germany, is owned by Johannes Gerhardt (Germany).

Ms Cohen says it's been worth it, with her rent coming in at just $US700 ($672), while her neighbours pay around $US3000 ($2880) for a small apartment to live in the exclusive Manhattan enclave.

"I wanted to live in Manhattan, but I didn't want it to take all my money and found this place through a friend," said Ms Cohen.

"It's a great location, its right near Central Park."

Ms Cohen works as a personal organiser and quickly put her professional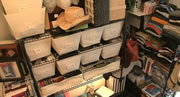 skills to the test in making the tiny sliver of space liveable.

(enlarge photo)

"The first night I slept in the apartment I had a panic attack," the Daily Mail quoted her as saying.

"After that night I have not had a panic attack and it's cosy," she said.

She found her 12ft by 7ft "microstudio" through a friend and cleared out all the furniture left behind by the previous tenant.

She then installed a desk with shelves about it on one side and a dresser behind a curtain on the other. Above the dresser and towards the back of the room she installed a bunk bed style frame for one person with a short ladder.

She stores fruit in a toaster oven, owns just two plates, one knife, fork and spoon and has cut down on personal items like clothing.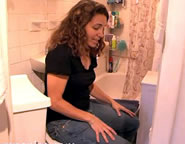 Photo: The bathroom is so small that she has to sit sideways to go to the toilet. (enlarge photo)

There is no kitchen but Ms Cohen has a hot pot and a small fridge to compensate.

"I'm a professional organiser so organising the space was a challenge - but one I wanted to take on," she added.

When it comes to the rent, Cohen says its worth it all, as she pays just 700 dollars a month to live in New York's Upper West Side - whilst neighbours are charged 3,000 dollars.

"I guess I just think that people have too much space and so much stuff. I grew up in a house with two walk-in closets that are about as big as my entire apartment is now, but I've cut down," she said.

Felice's book: www.whatpapatoldme.com

Felice's blog: http://felicecohen.wordpress.com

"How much stuff do we really need? It's less than you think."

Related world records:
Most expensive apartment: Hong Kong flat

Most Expensive Apartment Building: One Hyde Park

Smallest Christmas card: University of Glasgow

Smallest Piaggio Ape Cross Model: Andrew Andrighetti

Smallest 'snowman': National Physics Laboratory

Smallest violin: Chen Lianzhi

Smallest Tattoo of a painting: Wingnut

Smallest cinema: Market Cinema

Smallest car: Perry Watkins

Largest collection of handmade aeroplanes: John Kalusa

Smallest Museum: Edgar's Closet Museum

Smallest snake: Leptotyphlops carlae

Smallest Helicopter: GEN H-4

Lightest mobile phone: Modu mini phone

Smallest living dog: Boo Boo

Smallest steam engine: Iqbal Ahmed

Driving a car through the smallest gap: Dave Ackland

Tuesday, April 5, 2011