NEW: Smallest living dog-world record set by Boo Boo

Smallest living dog by height-world record set by Ducky

[June 22] CHARLTON, MA, US--At 1.4 pounds and 4.9 inches tall, the yappy short-coat Chihuahua Ducky of Charlton is now the world's smallest living dog, by height, according to documents his owner presented.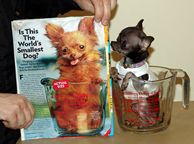 He looks like a wingless bat, quacks like a duck, lounges in a car seat, and naps in a baby's playpen. Occasionally, over his perky ears and bulbous eyes, he wears a suede bomber jacket and crystal necklaces.
(click here to enlarge)

"People say Chihuahuas are miserable and evil," said Lisa Messier , who bought the nearly 3-year-old dog for $5,000 when he was 13 months and named Macho Man. "I think they're really sweet, and if you want to go some place, you can just throw him in your pocketbook."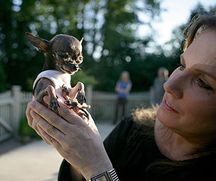 "The name Ducky comes from the fact that he goes quack, quack, quack," Mrs. Messier said. "He can't bark. He quacks and sounds exactly like a duck."Ducky is usually very noisy, his owner said.

"The thing is, people either think he's adorable, or they think he's really ugly and he looks like an alien," Mrs. Messier said. "So, it either goes one way or another. There's absolutely no middle ground with Ducky." "First of all, his eyes melt me," Mrs. Messier said. "I think he's so cute and so sweet and he needs me. … He's my little man."

Ducky succeeds Danka Kordak of Slovakia, a Chihuahua who measured 5.4 inches tall. The smallest dog ever, according to Guinness, was a dwarf Yorkshire terrier who stood 2.8 inches tall.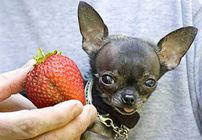 Mrs. Messier said Ducky likes to pose for pictures and has already done some "doggie modeling." He even has his own wardrobe of designer threads, sweaters, scarves, necklaces and sleepwear. And, there is no denying that Ducky looks fetching in his suede bomber jacket, which she calls his coolest outfit.
(click here to enlarge)

While Ducky is the Smallest Dog in the World, he might also be one of the smartest. According to Mrs. Messier, who currently owns five Chihuahuas and two Yorkshire terriers, Ducky is the smartest dog she ever had. "I like the way he needs me. The way he looks at me. I like the way he's so smart, like he tells what he wants," she said. "You never question what Ducky wants because he's going to let you know."