Friday, August 14, 2009

Smallest Tattoo of a painting-world record set by Wingnut

PALM BEACH, FL, USA -- Wingnut, 24, (aka Parker A. Beaudoin) is a tattoo artist specialized in reproducing art work in tattoo form the size of a coin-setting the world record for the Smallest Tattoo of a painting (or any design in color or b/w).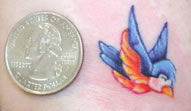 "I have spent years fine tuning and improving my style and techniques to produce the best and most detailed itty bitty tattoos," he says.

While he's just as comfortable doing large pieces-he logged about 40 hours into a Stars Wars-themed sidepiece-he takes special pleasure in the super small work.

It's his capacity to push the limits of tattooing and "never saying no, no matter how small," that helped him develop this special skill, and he wrote a book on the subject: "The everlasting itty bitty" (on sale soon).

"I did an entire beach scene inside of a girls ear!"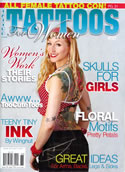 Wingnut was interviewed by the "Tattoos for Women" magazine:
"I became interested in tattooing itty bitties years ago", says Wingnut, of A New Dimension in Lake Worth, FL. " I Have always been rebellious, so when I hear 'You can't tattoo it that small', I want to prove that you can."

(enlarge photo)

Having started his own tattoo collection at the tender age of 14, "I Had to bribe my father into letting me get it. I told him I would pay for his if he let me get mine."), Wingnut has been working his tattoo magic, small and large, into skin for six years now.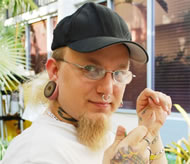 Wingnut's positive, open atitude makes his customers feel welcome and at ease, from the just-turned-18-year-olds to the octogenarian great grandma who brought her entire family in for tattoos. " She told me her whole life story-including her future plans to sky dive-in just 30 minutes," he marvels.

(enlarge photo)

Wingnut is grateful for the creativity and professionalism of his fellow tattooists at A New Dimension and the good working environement those skills provide.

" The shop is very upbeat and outgoing." he says. "WR're all just one big family and would do anything for each other."

In the end he strives to "make my father proud of me and be someone that my daughter can look up to." he wishes to thank his "two special girls who help me with everything."

Check him online at:
http://www.myspace.com/TATTOOEDRAVER13

http://www.tattoo-guide-europa.de/wingnut.html


Related world records:
Most tattoos given in 24h-world record set by Robbie The Coon


Friday, August 14, 2009