Smallest steam engine made by Iqbal Ahmed set world record
[July 21] NAGPUR,India--The smallest working stationary steam engine was constructed by Iqbal Ahmed of Nagpur, India, and has a flywheel measuring just 6.8 mm (0.267 inch) across.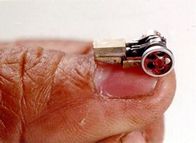 Photo: Iqbal's "thumbnail" working steam engine weighs just 1.72 grams. (click here to enlarge photo)
The machine stands at 6.8 mm (0.267 inches) high, and is 16.24 mm (0.639 inch) long and weighs 1.72 gm (0.06 oz).
The tiny engine has a cylindrical body of brass with built in crankshaft bearings, piston, connecting rod and valve mechanism.

While the smallest part is the 0.7 mm connecting pin, the largest is the 6.8 mm diameter flywheel. Its total length is 16.24 mm.

Dr Iqbal said, "With steam generated by 10 cc water, this engine can run for about two minutes. There is a separate boiler (45 mm high and 15 mm in diameter) which has to be connected to the steam intake nipple through a 1.5 inch pipe. The boiler is heated with an alcohol burner."

He said, "Watching the moving wheels of steam locomotives and toy Swiss electric train which my grandfather gave me when I was just seven year old, I had always dreamt of making engines one day."
On Friday evening, Science and Technology Minister Kapil Sibal gave him a plaque, appreciating his work, while giving away the India Innovation Pioneers Challenge Awards for 2006-07.

Sixty one year old Iqbal Ahmed is a class nine drop out but today holds the World Record for constructing the smallest working stationary steam engine.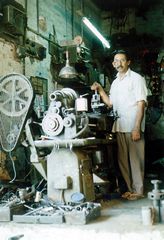 Discontinuing studies due to family circumstances Iqbal worked in the lathe machine workshop set up by his father.
Photo:
Iqbal Ahmed at work in his shop in Nagpur, India
(click here to enlarge photo)

"Inspired in 1975 by a friend from England who sent me a book on model making with diagrams I slowly started making models of various steam engines, internal combustion engines which developed into a hobby," he said.

As a person fascinated by new challenge, Mr Iqbal said, "While the model making book gave dimensions of an eight inch stationary steam engine model, I created a four inch model in 1978 and thereafter went ahead and created a two inch one."

In 2001, Mr Iqbal made a one inch steam engine model and sent it for Guinness World Record but failed to make it. He was informed that the world record is held by a engine which is 17 mm high and weighing just 1.8 gm in weight. "I took it as a challenge and same year constructed a smaller engine achieving the Guinness World Record." Mr Iqbal's models have also been getting awards at the Sherline Machinist Challenge Competition, USA, since 2001.

In 2001, he got special recognition for miniature vertical steam engine. In 2004, he got third position and a special award for making miniature lathe machine working model. In 2005, he got second prize for making the four stroke four cylinder water cooled internal combustion engine without any design or blue print.

This year for the first time in the 16 year history of Sherline Machinist Challenge Competition, he got both the first and second prize award for a miniature 4.5 inch milling machine and a miniature 4 inch lathe machine respectively.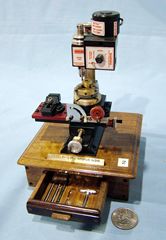 Photo:
This tiny model of a Sherline Model 5400 milling machine took top honors in the 2007 Machinist's Challenge contest at the North American Model Engineering Society Expo held in Toledo, Ohio in April. It features a functional rotary table with chuck mounted to a tilting angle table. On the left of the mill table is a miniature Sherline mill vise with rotating base. It is all mounted on a wood cabinet with a pull-out drawer that reveals additional tools for adjusting the mill. After finishing third in 2005 and second in 2006 in the contest, Iqbal was finally rewarded with a win in 2007.
(click here to enlarge photo)

Mr Ahmed said that the prize winning lathe machine had been donated by him to Joe Martin Foundation at Vista, California, USA.

Mr Iqbal said, "Miniature models can be made but it is virtually impossible to make miniature models work. The model for which I hold the Guinness record cannot be made smaller than 5mm… I made all my miniature models and precision tooling on my big six feet lathe machine."

"Though, it's my hobby but miniature engines may generate electricity or be used for pumping water," he added.
Iqbal welcomes the visit of any model engineers traveling to India and loves to share his experience in modeling.

Sources: Hindustan Times- India, Craftsmanship-Museum.com
Photos: Craftsmanship-Museum.com