Smallest waist-world record set by Cathie Jung
[Aug 25] OLD MYSTIC, NC, US--Cathie Jung have the Smallest Waist On A Living Person- just 15 inches. Cathie Jung's waist is about the same size as a regular jar of mayonnaise.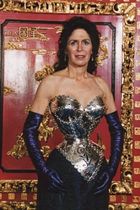 Photo:
Cathie Jung: the Queen of corsets
(click here to enlarge photo)

Cathie Jung's astonishing midriff is not a result of malnutrition or disorder. Rather, her 39-15-39 figure is a product of spending the last 25 years laced into tight corsets, which are removed, only when Cathie showers. Only when the weather is unbearably hot, the corset is taken off for a short while.

She's been wearing a corset every day for the past 12 years, and she now wears one 24 hours a day. "I probably have around 100 of them," says the corset queen.

She is the mother of three children and married to Bob, an orthopedic surgeon. Cathie Jung's unfathomably dainty waist of 15 inches, is unique.

"The first time I ever wore a custom-made corset was on my wedding day in 1959, when I was 22. I always liked corsets. When I watched films like Gone With The Wind and Seven Brides For Seven Brothers I just loved the women's figures," The Sun quoted her, as saying.

"Later, my husband and I developed an interest in Victorian clothing. When I was 45 I decided to start doing 'tight lacing' and wearing a corset all the time. My three children were grown-up so I decided to go for it. I thought it would be a good way to feel elegant and sexy," she added.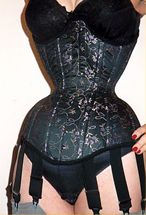 Cathie, from Manteo, North Carolina, feels that while her corsets confine her waist they don't act as an obstruction in her daily chores. "I do everything that I want to do. I eat fairly small meals but I prefer that at my age anyway. I find it tricky sitting in low chairs and sometimes in restaurants I have to sit on the high chairs at the bar," she said.
(click here to enlarge photo)
"I even have a special swimming costume with a corset sewn in it, so I can still go to the beach. And I am still able to do housework - unfortunately!" she added.

Cathie said that her husband Bob, who is an orthopaedic surgeon, believes that her unique look is not harmful at all. "Bob has carried out X-rays on me and says the corset actually helps support my spine. Everything in the midriff is flexible," she said.

Cathie revealed that she spends between 100-500 pounds on each handmade corset and owns more than 100. "My husband made a cast of my body, so my favourite corset-makers in England and Amsterdam have patterns of my measurements," she said.

Several times Cathie and Bob flew to Tokyo in Japan for guest appearances on Japanese TV. In the U.S.A. and Western Europe they were also guests in TV shows.

If possible, they visit every year the ball organized by the LGM. (Les Gracieuses Modernes). LGM is a community of persons who are fond of the elegant and feminine figure of ladies with tiny waists.

Cathie Jung's corseted form has appeared on the pages of Life Magazine and the New York Times Style section. One of the photos shows Cathie in her sterling silver corset cover worn over a lavish black gown. She has donned it for the annual Metropolitan Museum of Art's Costume Institute party for the opening of its Versace show.

The Jung's like fishing and with their boat "The Bobcat" they make a lot of nice fishing trips.

Link: Cathie Jung's website