Friday, August 22, 2014

Largest paddle: Canada breaks Guinness World Records' record

GOLDEN, B.C., Canada -- The World's Largest Paddle is scaled 13 times larger than an actual oar, standing 2.8 metres (9 feet) high, 18 metres (60 feet) long and weighing 2,400 kg (5,300 pounds); it is located 26 kilometres from Golden, in Parson, on a farm on Highway 95 owned by Mark Teasdale, according to the World Record Academy: http://www.worldrecordacademy.com.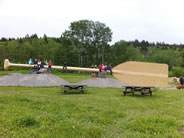 Photo: People pose with the world's largest paddle (according to Guinness World Records) near Golden, on a farm in Parson on Highway 95. Photo: Columbia Wetland Adventures .
(enlarge photo)

The Guinness World Records' record for the largest paddle board (SUP) lesson consisted of 517 participants and was achieved by Hailey's House (USA) in Newport Beach, California, USA.

Guinness World Records also recognized the world record for the most people in a paddle ball relay is 162 achieved by a team from Nike Digital Sport (USA) in Las Vegas, Nevada, USA.

One western red cedar log was used to construct the paddle and a local company completed the laminated veneer, the Vancouver Sun reported.

It took 10 days to build and was erected in November, stopping many highway travellers who pop in to the farm to pose for photos beside it.

Mark Teasdale, owner of wildlife tour company Columbia Wetlands Adventures, said the blade is situated over a pond and there's a picnic table for visitors to use.

Related world records:
Longest Stand Up Paddle board journey-world record set by Justin DeBree

Longest paddleboard journey set three world records

Largest hammock: Nova Scotia company breaks Guinness World Records' record (VIDEO)

Largest packaged product display: El Paso grocery store breaks Guinness World Records' record (VIDEO)

Largest floating Christmas tree: Brazil breaks Guinness World Records' record

Largest 3D balloon sculpture: Michael AhMazing breaks Guinness World Records' record (VIDEO)

Largest mattress: Dolidol Maroc sets world record record (VIDEO)

Longest chain of paper dolls: Julia Donaldson breaks Guinness World Records' record (VIDEO)

Largest Ball Pit: Shanghai hotel breaks Guinness World Records' record

Largest plastic bottle mosaic: Procter & Gamble and Transmed broke Guinness World Record

Largest poster: 'Boss' poster breaks Guinness world record (VIDEO)

Largest Horseshoe: Martinsville breaks Guinness world record

Longest duck call: Mark Hillery breaks Guinness world record

Largest butter knife: Claes Blixt breaks Guinness world record

Largest display of handmade paper dolls: Amnah Al Fard breaks Guinness world record (VIDEO)

Largest drum set: Mark Temperato breaks Guinness world record (VIDEO)

Largest painted sign on the ground: Australia breaks Guinness world record

Largest wooden jigsaw puzzle: Dave Evans breaks Guinness world record

Largest LEGO Model: Star Wars X-Wing breaks Guinness world record (VIDEO)

Largest knitting needles: Casey breaks Guinness world record (VIDEO)

Longest Lego Railway: Denmark smash Guinness world record (PICS & VIDEO)

Tallest Toy Train Track: TOMY breaks Guinness world record

Largest shoe: Electric Sekki breaks Guinness world record (VIDEO)

Longest chain of bracelets: Back Mountain students smash Guinness world record (VIDEOS)

Largest postcard mosaic: Camford School students smash Guinness world record

Longest pop-up book: Taiwan breaks Guinness world record

Tallest Lincoln Log structure: Nebraskans broke Guinness world record

Largest kummah: Omani kummah breaks Guinness world record

Largest rag doll: Kildare theatre breaks Guinness world record

Largest bunting line: Girl Guides broke Guinness world record

Longest tie-and-dye cloth: Inez Harwood breaks Guinness world record

Longest tie-and-dye cloth: Inez Harwood breaks Guinness world record

Biggest peace dove: Dubai breaks Guinness world record

Largest snowball: Silver Star Mountain Resort breaks Guinness world record (VIDEO)

Largest Rubik's Cube mosaic: Cube Works Studio breaks Guinness world record (VIDEO)

Longest string of beads: Little Heroes breaks Guinness world record

Largest toboggan: Lakeland College students break Guinness world record (VIDEO)

Largest paper model of the Titanic: Ronald Luntzn breaks Guinness world record

Largest ship made of styrofoam: Red Sea Mall breaks Guinness world record

Largest aluminium can sculpture: UAE breaks Guinness world record

Largest masking tape ball: Aurora school sets world record (VIDEO)

Largest Photo Mosaic: Transitions Optical Breaks Guinness World Record

Biggest tennis racket: New York team sets world record (VIDEO)

Largest sock mosaic: Artists Anat and Ehud Shamai set world record

Largest Drumsticks: 900-pound drumsticks sets world record (VIDEO)

Longest modular kayak: LL Bean sets world record (VIDEO)

Largest coin mosaic: SEB Bank sets world record (PICS & VIDEO)

Longest Baby Belt: Mary Jane Francois sets world record

Largest Chess Piece: St. Louis sets world record (Video)

Largest trophy: QuickTrophy LLC sets world record (Video)

Longest string of bottle caps: Ambrosoli pupils set world record

Largest paper airplane: Arizona Museum sets world record (Video)

Largest Gem encrusted Spiral Shell: Swarovski sets world record

Biggest Bouquet of Roses: Kazakh man sets world record

Largest penny pyramid: Tom Haffey sets world record (Video)

Largest Chewed Gumball: Barry Chappell sets world record

Largest Christmas tree made of plastic bottles: Kaunas (Video)

Largest Lego Santa Yoda: San Francisco (Video)

Largest jacket: children from Stockport breaks Guinness world record

Largest fuzzy dice: Las Vegas (Video)

Largest bra: Vanish

Largest slipper: Monster Slippers

Largest Balloon Sculpture: Adam Lee (Video)

Largest ball of paint: Michael Carmichael (Video)

Longest wedding dress veil: Elena De Angelis (Video)

Largest Kilt: Steve Campbell

Largest wall calendar:Kharagpur students (Video)

Most signed Lego bricks in one structure: Lego fair

Largest Fishing Lure: Sandestin Golf and Beach Resort sets world record (HD Video)

Largest hat mosaic: New Era set world record

Largest T-shirt: Gildan (Video)

Longest line of socks: New Zealand (Video)

Largest coat: Stockport children

Biggest pass the parcel: Make-A-Wish Foundation (HD Video)

Longest row of rubber ducks: Cozi

Longest friendship bracelet: Owingsville Elementary (Video)

Longest usable yo-yo: James Buffington (HD Video)

Longest string of bottle caps: Seaview School students

Largest pack of playing cards: Lynn Camp students

Largest banjo: Richard Ineson

Tallest sandcastle: Ed Jarrett (HD Video)

Longest cigar: Jose Castelar Cairo (Video)

Longest model train: Wilmington Railroad Museum (Video)

Tallest structure built with Lincoln Logs: Ottawa students (Video)

Tallest Lego Tower: Brazil children (Video)

Largest ball of copper: Rick Fortin (Video)

Largest clay pot: Korea

Largest LEGO Mosaic: DK and the LEGO Group (Video)

Largest Ring Binder: Impact Enterprises Inc.

Largest dome igloo: Eric Ouellette and his team

Largest Snowball: University of Massachusetts Dartmouth students

Largest Magnetic Sculpture: Tim Szeto and Denis Saveliev

Longest Ski Hat: Gini Woodward

Largest Grand Piano: Daniel Czapiewski

Largest piece of handmade recycled paper: Ryan International school students

Largest Wallet: Big Skinny

Largest T-Shirt: QAPCO

Biggest luminous pearl: Six-ton Chinese 'pearl'

Longest attached rope of Silly Bandz: Boynton Beach students

Largest Toast Mosaic: Laura Hadland