Friday, January 27, 2012

Largest Chewed Gumball: Barry Chappell sets world record (Video)

LOS ANGELES, CA, USA -- After six years, Barry Chappell has sculpted a giant ball made entirely of chewed Nicorette gum (worth $30,000), weighing in at 175 pounds and measuring 62" in circumference, it sets the world record for the Largest chewed gumball, according to World Record Academy (www.worldrecordacademy.com).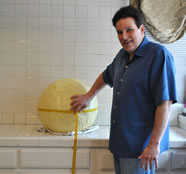 Photo: Barry Chappell measures the World's Largest Medicated Gumball for Ripley's Believe It Or Not! The Gumball measures 62" in circumference and weighs 175 lbs!. Photo: PRNewsFoto/Art & Coin Television, LLC (enlarge photo)

Chappell was a heavy smoker for many years, but his life changed fifteen years ago when his son was born. He immediately quit smoking, switching to Nicorette gum as a means of transition, but it soon became much more.

What began as a promise to his family soon turned into a crazy adventure that would eventually set a world record.

The Guinness world record for the Largest ball of clim film was set by Jake Lonsway of Bay City, Michigan, USA, who created the largest ball of cling film, which measured 351 cm (138 in) in circumference and weighed 127.7 kg (281 lb 8 oz).

Guinness World Records also recognized the world record for the largest ball of magnetic tape: it weighs 570 kg (1,256 lb) and measures 2.125 m (6 ft 11 in) in width by 2.030 m (6 ft 7 in) in height and was achieved by EMC at the Kings Place Gallery, York Way, London

It all started on a long flight to Europe in 2006—Chappell had nowhere to throw away the piece of gum he was chewing, so he rolled it into a tiny ball. Throughout the flight the ball slowly grew, as layer after layer was carefully molded upon the last. By the time the flight landed, Chappell vowed to create the world's largest gumball!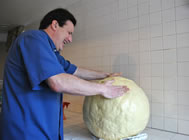 Photo: Barry Chappell adds another layer of gum to the World's Largest Medicated Gumball. Photo: PRNewsFoto/Art & Coin Television, LLC(enlarge photo)

"What started out as kind of a joke between my daughter and me has turned into a really fun project over the last few years," said Chappell of how the gumball started.

95,200 pieces of Nicorette gum later, Chappell has reached his goal, and Ripley's Believe It Or Not! is coming to Art & Coin TV to make it official and present their first-ever award for the World's Largest Medicated Gumball.

Related world records:
Largest jacket: children from Stockport breaks Guinness world record

Largest fuzzy dice: Las Vegas (Video)

Largest bra: Vanish

Largest slipper: Monster Slippers

Largest Balloon Sculpture: Adam Lee (Video)

Largest ball of paint: Michael Carmichael (Video)

Longest wedding dress veil: Elena De Angelis (Video)

Largest Kilt: Steve Campbell

Largest wall calendar:Kharagpur students (Video)

Most signed Lego bricks in one structure: Lego fair

Longest Toran: Jyoti Chindak (Video)

Largest Fishing Lure: Sandestin Golf and Beach Resort sets world record (HD Video)

Largest hat mosaic: New Era set world record

Largest T-shirt: Gildan (Video)

Longest line of socks: New Zealand (Video)

Largest coat: Stockport children

Biggest pass the parcel: Make-A-Wish Foundation (HD Video)

Longest row of rubber ducks: Cozi

Longest friendship bracelet: Owingsville Elementary (Video)

Longest usable yo-yo: James Buffington (HD Video)

Longest string of bottle caps: Seaview School students

Largest pack of playing cards: Lynn Camp students

Largest banjo: Richard Ineson

Tallest sandcastle: Ed Jarrett (HD Video)

Longest cigar: Jose Castelar Cairo (Video)

Longest model train: Wilmington Railroad Museum (Video)

Tallest structure built with Lincoln Logs: Ottawa students (Video)

Tallest Lego Tower: Brazil children (Video)

Largest ball of copper: Rick Fortin (Video)

Largest clay pot: Korea

Largest LEGO Mosaic: DK and the LEGO Group (Video)

Largest Ring Binder: Impact Enterprises Inc.

Largest dome igloo: Eric Ouellette and his team

Largest Snowball: University of Massachusetts Dartmouth students

Largest Magnetic Sculpture: Tim Szeto and Denis Saveliev

Longest Ski Hat: Gini Woodward

Largest Grand Piano: Daniel Czapiewski

Largest piece of handmade recycled paper: Ryan International school students

Largest Wallet: Big Skinny

Largest T-Shirt: QAPCO

Biggest luminous pearl: Six-ton Chinese 'pearl'

Longest attached rope of Silly Bandz: Boynton Beach students

Largest Toast Mosaic: Laura Hadland

Largest Photo Mosaic: Revoli Cortez

Longest Plasticine sculpture: Flair

Largest skateboard: California designers

Friday, January 27, 2012