Monday, April 11, 2011

Tallest Lego Tower: Brazil children sets world record (Video)

SAO PAULO, Brazil -- Nearly 6,000 Lego lovers in Sao Paulo, mostly children, helped put together 500,000 Lego pieces which were later stacked using a crane; the Lego tower reached 102 feet and 3 inches - setting the new world record for the Tallest Lego Tower.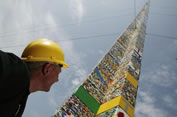 Photo: Standing at 31.19m (102ft), The World's Tallest Lego Tower has broken the previous Guinness world record set by Chile in 2008 by 25cm (9.8ins). (enlarge photo)

The previous Guinness world record was was 30.52 m (100 ft, 1 in) high and was constructed by the Stichting Limmen Ludiek (Netherlands).

Guinness World Records also recognized the largest image built with interlocking plastic bricks; it measures 112 m² (1205.55 ft²) and was made by Emilio Georgiou-Matson (UK).

The World's Tallest Lego Tower was held in place by wire supports to prevent it from toppling over in the wind.

Lego sent designers from Denmark to build the World's Talest Lego Tower, which was completed Saturday in a shopping center parking lot after four days of construction.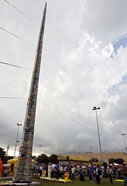 Photo: The world's tallest Lego tower, made of 500,000 little plastic bricks, was erected in Sao Paulo, Brazil. (enlarge photo)

Brazilian soccer great Cafu attached the last piece of the Tallest Lego Tower in The World.

According to Lego, the first such structure was built in London in 1988 and stood just a little over 15 meters (49.21 feet) tall.

Since then 53 cities have built towers in more than 30 countries.




Related world records:
Largest ball of copper: Rick Fortin (Video)

Largest clay pot: Korea

Largest LEGO Mosaic: DK and the LEGO Group (Video)

Largest Ring Binder: Impact Enterprises Inc.

Largest dome igloo: Eric Ouellette and his team

Largest Snowball: University of Massachusetts Dartmouth students

Largest Magnetic Sculpture: Tim Szeto and Denis Saveliev

Longest Ski Hat: Gini Woodward

Largest Grand Piano: Daniel Czapiewski

Largest piece of handmade recycled paper: Ryan International school students

Largest Wallet: Big Skinny

Largest T-Shirt: QAPCO

Biggest luminous pearl: Six-ton Chinese 'pearl'

Longest attached rope of Silly Bandz: Boynton Beach students

Largest Toast Mosaic: Laura Hadland

Largest Photo Mosaic: Revoli Cortez

Longest Plasticine sculpture: Flair

Largest skateboard: California designers

Tallest Sand Sculpture: worldwide artists

Monday, April 11, 2011