Thursday, May 16, 2013

Longest Lego Railway: Denmark smash Guinness world record (PICS & VIDEO)

Copenhagen, Denmark -- The Lego Railway built by 80 Lego enthusiasts in Denmark measures a massive 2.5 miles long, (4,000.25 meters); the track use a total of 93,307 Lego pieces and took around 6 hours to build; it then took the train around 4 hours from the start to the finish, setting the new world record for the Longest Lego Railway, according to the World Record Academy: www.worldrecordacademy.com/.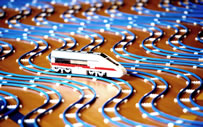 Photo: 93,307 LEGO elements. That's what it took to build the longest plastic toy train track in the world – precisely 4000.25 meters long. All Photos: LEGO (enlarge photo)

The Guinness world record for the tallest structure built with interlocking plastic bricks was 30.52 m (100 ft, 1 in) high and was constructed by the Stichting Limmen Ludiek (Netherlands) foundation on in Limmen, Netherlands.

Guinness World Records also recognized the largest image built with interlocking plastic bricks; it measures 112 m² (1205.55 ft²) and was made by Emilio Georgiou-Matson (UK).

More than 80 LEGO enthusiasts gathered in Denmark to put the nearly 100.000 elements bricks and rails together.

It took about six hours before the electric LEGO train was set in motion. After almost four hours of travel time the train reached the end of the line and received the world record award.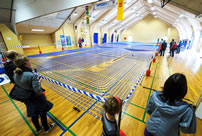 Photo: More than 80 LEGO enthusiasts gathered in Denmark to put the nearly 100.000 elements bricks and rails together. It took about six hours before the electric LEGO train was set in motion. After almost four hours of travel time the train reached the end of the line and received the world record award. (enlarge photo)

The man behind the world record attempt is adult LEGO fan Henrik Ludvigsen, who got the idea after noticing the large number of rails he had in his personal LEGO storage.

With the help of advertisements in newspapers and on the internet he received blue LEGO rails from all over the world – enough to set the world record.

Related world records:
Lego World Records

Largest Lego Santa Yoda: San Francisco (Video)

Most signed Lego bricks in one structure: Lego fair

Tallest Lego Tower: Brazil children (Video)

Largest LEGO Mosaic: DK and the LEGO Group (Video)