Wednesday, February 13, 2013

Largest Baseball Card: Topps sets world record (PICS & VIDEO)

LAKELAND, FL, USA -- Spring training kicked off in Lakeland, Fla. with the Topps Company, one of the leading manufacturers and marketers of sports trading cards, creating a giant baseball card; measuring nearly 90 ft. tall and 60 ft. wide, this massive baseball card depicts the image of Fielder, who appears on the cover of the Topps 2013 Series 1 box.; the giant card sets the new world record for the Largest baseball card, according to the World Record Academy: www.worldrecordacademy.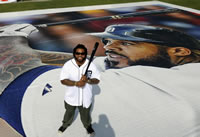 com/.

(enlarge photo)

Guinness World Records recognized the world record for the most valuable baseball bat in the world: the George Herman Ruth's (A.K.A Babe Ruth) bat with which he hit the first home run at Yankee Stadium on opening day 18 April 1923 in New York City USA. The bat was purchased by MastroNet, Inc (Illinois based auction house) at a Sotheby's New York auction for a record $1,265,000.

The Guinness world record for the most valuable baseball card is a rare tobacco card issued by the American Tabacco Company in 1909 and known as T206 Honus Wagner. It was sold in a deal brokered by SCP Auctions of Mission Viejo, California, USA, to an anonymous collector for $2.8million.

"It is truly an honor and a thrill for me to be featured not only on the 2013 Topps Series 1 box, but also on the largest baseball card the world has ever seen," said Fielder. "Baseball is back."

The grand reveal of this giant card took place at Peterson Park, a youth baseball field just a few miles south of where Fielder's Tigers teammates will hold their first workout of Spring Training for the 2013 season.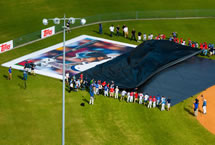 (enlarge photo)

"Spring Training is one of the most exciting times for baseball fans, as it marks the official start of a brand new baseball season," said Marc Stephens, Marketing Manager for the Topps company.

"We are excited to kick off the season and celebrate the launch of our new 2013 Series with Lakeland City Baseball, Prince and baseball fans everywhere."

Related world records:
Longest marathon playing darts: Lincolnshire players broke Guinness world record

Largest Cornhole Board: Ephraim Ford breaks Guinness world record

Biggest jackpot win: Mega Fortune jackpot breaks Guinness world record

Longest racketball game: Steve Rowe and Stuart Allwood break Guinness world record

Largest Blackjack Table: Viejas Casino sets world record (VIDEOS)

Largest Tug Of War Tournament: RIT students set world record (VIDEO)

Longest hopscotch course: Hopscotch Detroit breaks world record (VIDEO)

Longest Wiffle Ball game: New England players set world record

Longest domino wall: German team breaks world record (VIDEO)

Largest twister board: SDSU breaks world record

Largest Monopoly board game: Lynn Camp students sets world record (PICS)

Fastest human conveyor belt: Thomas Hardye school sets world record

Longest baseball game: St. Louis players set world record (VIDEO)

Longest netball match: Durham University netball players sets world record

Largest Ring a Ring O' Rosie: Irish school students breaks world record (PICS & Video)

Largest lacrosse game: Ohio players sets world record (PICS)

Longest kickball game: Connecticut Teams set world record (HD Video)

Most Consecutive Netball Passes: New Zealand sets world record (Video)

Most field goals made in 24 Hours: Craig Pinto sets world record (Video)

Largest Duck Duck Goose Game: Logan-Rogersville School District sets world record

Largest claw crane game: Toyota Ractis sets world record (HD Video)

Longest marathon playing squash singles: Guy Fotherby and Darren Withey sets world record (Video)

Largest game of duck duck goose: University of Central Oklahoma

Largest Beach Volleyball Tournament: Seaside (HD Video)