Tuesday, September 20, 2011

Largest Beach Volleyball Tournament: Seaside sets world record (HD Video)

SEASIDE, Ore., USA -- The annual Seaside Beach Volleyball Tournament presented by Bud Light and Bud Light Lime celebrates its 30th anniversary this year and the event features approximately 975 two-person teams and 1,600 players from all over the world that competed on 115 volleyball courts for cash prizes - setting the new world record for the Largest Beach Volleyball Tournament, according to World Record Academy (www.worldrecordacademy.com).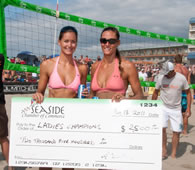 Photo: Women's Open Champions Christal Engle and Jenn Snyder / World's Largest Beach Volleyball Tournament. All Photos: Thom Dickerson
(enlarge photo)

The Guinness world record for the the largest beach volleyball tournament is for the senior male division of the Usedom BeachCup 2007 with 236 players in the division, played in Karlshagen, Insel Usedom, Germany. The entire event consisted of 890 participants across six different divisions.

Guinness World Records also recognized the world record for the most consecutive volleyball passes: 110, in an event hosted by the Triangle Volleyball Club at the Raleigh Convention Center in Raleigh, North Carolina, USA.

"We estimate that this event brought in $4 million to the Seaside economy," said Alan Smiles, Seaside Chamber of Commerce executive director.

The Seaside Beach Volleyball Tournament, which launched in 1982 as a small, community event, has steadily grown in the last 30 years to become the largest event of its kind in the world.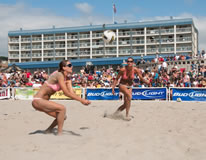 Photo: Christal Engle digs as partner Jenn Snyder looks on during the Largest beach volleyball tournament in the world. Photo: Thom Dickerson (enlarge photo)

Each day of the tournament more than 8,000 players, family, friends and spectators converge on the Oregon coast from across theUnited States and parts of western Canada.

"It's amazing that we are about to embark on the 30th Seaside Beach Volleyball Tournament and we are very proud of how the tournament has grown in size and prestige," said Doug Baker, event coordinator for the Seaside Chamber of Commerce.

"The citizens of Seaside have embraced this tournament since its humble beginnings in the early 80s. It's this community's passion for the tournament that has helped it to become the event it is today – an attraction to fans and players from all over."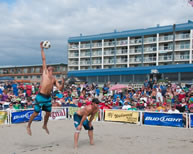 Photo: Jon Mesko serves during Men's championship action, while partner Evan Engle awaits, during the World's Largest Beach Volleyball Tournament. Photo: Thom Dickerson (enlarge photo)

About 40 volunteers assisted in the tournament. "The Chamber could not begin to have any of its success without those volunteers," said Alan Smiles, Seaside Chamber of Commerce executive director.
"We also had many donations from local businesses and others of equipment and other needed materials. It really is a community-minded event. That is a testament to Seaside."

The event is managed and promoted by the Elevation Group which has worked with the Seaside Chamber of Commerce to organize the tournament since 2008.

"The Seaside Beach Volleyball Tournament is unique in its scope, appeal and longevity," said Steve Lindecke, managing partner for the Elevation Group and tournament promoter since 2008.
"It's a niche event that has a cult following and I'm always amazed at the masses that gather annually for what is one of the most fun events with which I've been associated in my career."

Related world records:
Most consecutive volleyball passes: Triangle Volleyball Club

Largest game of duck duck goose: University of Central Oklahoma set world record

Longest Marathon Bag Toss: DuPage group

Longest pickleball game: Jeffrey Baker and Justin Lawrence

Longest kickball game: Padua students (Video)

Largest cup pyramid: Ideal Schools Students

Largest rugby scrum: Ashby School

Longest curling game: Bala Curling Club

Longest underwater card game: German scuba divers (Video)

Most ping pong balls caught with chopsticks in 1 minute: Ma Deqi

Largest Pass the Parcel: Britain

Longest game of darts - Jason Rosiak and Dominic Nolan

Largest Toy Pistol Fight - Washington University students

Most people patting their heads and rubbing their tummies - Calne students

Longest Curling Game - The Coaldale Granite Club

Fastest Time To Solve A Rubik's Cube - Feliks Zemdegs sets world record

Largest Game of Head, Shoulder, Knees and Toes - Bendigo students

Largest Mini Rugby Tournament: Hong Kong tournament

Largest Human Mattress Dominoes - Palantine Beds

Longest wiffle ball game - Prior Lake High School

Largest Tug Of War Tournament - Inner Mongolia

Longest tenpin bowling marathon - Stephen Shanabrook

Luckiest lottery winner - Joan Ginther

Longest poker game - Phil Laak

Longest Bowling Run-up - Jason Rawson

Largest ' Ring a Roses' Game - Children Today

Largest Twister Board - UCD Suas Society

Longest keepy-uppy journey - Dan Magness

Most yo-yos spinning at the same time - Ben McPhee

Youngest poker champion - Joe Cada

Largest free-floating soap bubble-Samsam Bubbleman

Tuesday, September 20, 2011