Friday, November 13, 2009

Youngest poker champion-Joe Cada sets world record

LAS VEGAS, USA -- Joe Cada (21) of Shelby Township, Mich., a poker professional who chose cards over college won the World Series of Poker main event winning $8.55 million and setting the new world record for the Youngest poker champion.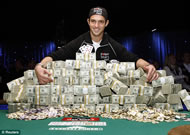 Photo: Joe Cada, 21, is the youngest champion ever in the World Series of Poker. / Reuters photo
(enlarge photo)

Cada's record-breaking win breaks a record for the tournament's youngest winner set last year by 22-year-old Peter Eastgate of Denmark. The previous Guinness world records holder for the title of Youngest poker champion, Phil Hellmuth, held the record for over two decades. He was 24 when he won for the first time in 1984.

He battled 41-year-old logger Darvin Moon and at one point held only one per cent of the chips in play. Cada, who turns 22 next week, took home $8.5 million early Nov. 10 when he outlasted Maryland logger Darvin Moon (and 6,492 other competitors) at No-Limit Texas Hold 'Em to win the sport's biggest prize.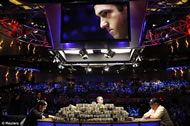 Joe Cada turned over a pair of nines early after 46-year old Darvin Moon called his all-in wager with a suited queen-jack, setting up an about-even race for most of the chips on the table.
(enlarge photo)
"I ran really well and I never really thought this was possible," Cada said. "It was one of those dreams and I'm thankful it came true."

He told reporters: 'Luck always helps. I'll take all the luck I can get.' The player was virtually unknown when he started the competition, but he is now worth approximately £5.1million.

The finale pitted the youthful professional - who makes a living playing poker online - against a self-employed logger who, until this year's World Series of Poker, had never been on an airplane or gambled for high stakes.

Related world records:
Longest 5-a-side football game-Surrey County Council sets world record

Largest Human Mattress Dominoes-world record set by Juniata College

Largest board game-world record set by Luanga Nuwame

Longest game of tenpin bowls-world record set by Stuart Ridley

Longest Marathon Billiards Match-world record set by Rikki Cunningham

Largest free-floating soap bubble-Samsam Bubbleman sets world record

Friday, November 13, 2009