Monday, April 12, 2010

Largest ' Ring a Roses' Game - world record set by Children Today

BOLTON, UK -- 550 children from schools all over Bolton took part in a massive game of Ring a Roses' around the Bolton Wanderers pitch organized by Children Today , setting the world record for the Largest 'Ring a Roses' Game.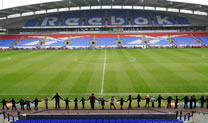 (enlarge photo)

The 550 youngsters were part of a Ring-a-Reebok event, circling the pitch and singing at the top of their voices as they took part in the popular children's game.

The world's Largest 'Ring a Roses' Game took place circling the pitch inside the Reebok Stadium and was supported by children from Devonshire Road CP , Mytham Road CP Lever Edge CP Gaskell Street CP Ladybridge CP Our Lady of Lourdes RC CP Markland Hill CP Thomasson Memorial School and Firwood Special School who had come along and share in this spectacular event.

Each school was asked to raise some sponsorship and enjoy the experience.

All participating children received a 'goody bag' supplied by Foster Care Associates, Barrs soft drinks, Morrisons and Sainsburys.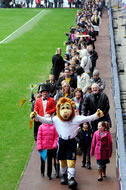 Photo: Lofty the Lion was on hand for photos and to conduct the singing and the children all were magnificent and really entered into the spirit of the event. (enlarge photo)

Elizabeth Oakes Regional Fundraising Manager for Children Today said " This wouldn't have happened without the support of Bolton Wanderers Football Club the hard work of Phil Dunn and the local fundraising committee, Lorraine Henshaw and the generosity of Bolton School Coaches, Olympia Coaches, and the many sponsors who have donated to enable Children Today to help more children locally with sickness and disability. I really cant thank you enough"

The Largest 'Ring a Roses' Game in the world was organised by the Bolton Fundraising Committee of Children Today with the objective of inviting all the primary schools in Bolton to join hands to raise awareness of children within the authority who suffer sickness or disability.

Subscribe to our RSS News feed to receive updates.

Related world records:
Largest Twister Board - world record set by the UCD Suas Society

Largest dodgeball game - world record set by the University of Alberta

Longest keepy-uppy journey - Dan Magness sets world record

Most yo-yos spinning at the same time -world record set by Ben McPhee

Monday, April 12, 2010