Tuesday, March 5, 2013

Scuba Diving in the Most Countries: Karin Sinniger sets world record (VIDEO)

Havelock Island, India -- Karin Sinniger, 48, a Swiss, US and British (Hong Kong) citizen who lives in Angola and who has logged over a 1,000 dives, successfully scuba dived with an elephant near the Havelock Island, Andaman Islands, India (the 115th country she dived in), to set a world record for scuba diving in the most countries, according to the World Record Academy: www.worldrecordacademy.com/.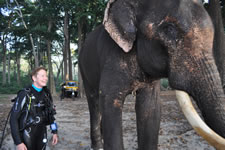 Photo: Karin eyes elephant Rajan after diving with him. All Photos: Marcus Jimi Ivan
(enlarge photo)

The Guinness world record for the Most people cycling underwater was set by 22 scuba divers competing along the the 60-m (196-ft) long, 3-m ( 10-ft) deep 2e2 Underwater Cycling Challenge in Havelet Bay, Guernsey, Channel Islands, UK.

Guinness World Records also recognized the world record for the most people scuba diving simultaneoulsy: i2,486 - achieved in Malalayang beach, Manado (Indonesia), during an event organised by the Indonesian Navy.

"I've been shot at by African border guards; dogged crocodiles, hippos and great white sharks; dived under the ice with Santa Claus, in volcano craters, in caves, trains and submarines" said Sinniger. "But diving with a retired logging elephant was a unique experience."

Rajan, 63, used to be forced into the sea to help the timber trade. Today, he only goes into the sea if he feels like it.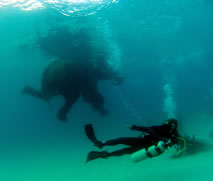 Photo:Karin Sinniger & Divemaster Diving with Elephant, Rajan, Havelock Island, Andamans, India.
(enlarge photo)

"The first day Rajan only wanted to be in the water for two minutes. He was not forced to stay longer. Since the dive operator who owns him is ethical and they don't want to turn him into a circus act, they limit the number of dives he does a year to just 12. I had to wait a week to dive with him again and the second time he was in the water for 24 minutes. I was a beautiful expereince" said Sinniger.

Sinninger, a Swiss, US and British (Hong Kong) citizen, has been diving since 1992 and has logged over a 1,000 dives. She lives in Angola where she decompresses by practicing law when she is not diving.

A long-time patron of the award winning charity Blue Ventures, Ms. Sinniger hopes to raise awareness for the deteriorating condition of aquatic life globally. She began her world record quest in 2005.

"I travel a lot for business and decided that I would always try to combine a business trip with a visit to a new country to dive," Sinniger said.

On the Net: Karin Sinniger's Website

Karin Sinniger intends to continue marrying her interests in traveling and diving. Her next dive destination will be in Peru in April, where she will dive with sea lions.

Related world records:
Largest swimming race: Midmar Mile breaks Guinness world record (PICS & VIDEOS)

Largest wave surfed: Garrett McNamara breaks Guinness world record (VIDEO)

Most surfers riding the same wave: 120 Surfers set world record (VIDEO)

Longest Apnea in a Cave: Carlos Coste

Longest Open Saltwater Scuba Dive: Ivan Zhelezarov

Deepest free immersion dive: William Trubridge

Longest Open Saltwater Scuba Dive: Will Goodman

Longest swim in a lagoon: Mauro Giaconia

Youngest relay team to swim the English Channel:English swimmers

Most miles paddled in 24 hours on Stand Up Paddle Board: Justin DeBree

Longest Stand Up Paddle board journey: Justin DeBree

Unassisted free diving world record: William Trubridge