Friday, February 22, 2013

Largest swimming race: Midmar Mile breaks Guinness world record (PICS & VIDEOS)

Midmar Dam, South Africa -- South Africa's aQuellé Midmar Mile celebrated its 40th anniversary in style with an entry that beat its own Guinness world record; the Midmar Mile currently holds the world record of 13 755 finishers, but that mark was bettered this year at the Midmar Dam in the KwaZulu-Natal midlands, with over 14 755 finishers, which sets the new world record for the Largest swimming race (open water), according to the World Record Academy: www.worldrecordacademy.com/.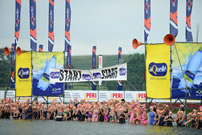 Photo:Thousands took to the water on the opening day of the 2013 Midmar Mile kick starting the race's 40th anniversary celebrations. (enlarge photo)

The Guinness world record for the Largest swimming race (open water) is 13,755 and was achieved at the 2009 Midmar Mile at Midmar Dam, Howick, near Pietermartizburg, South Africa, from 7-8 February 2009.

Guinness World Records also recognized the world record for the most participants in a swimming relay in one hour: 254, in an event organised by the Hong Kong Blind Sports Association in Hong Kong.

The Midmar Mile, as has become the norm, served as a popular vehicle to raise funds for charity, the SouthAfrica.info reported.

The Eight Mile Club, in which swimmers take part in all eight miles, backed a variety of charities, while Game, which had over 300 swimmers, donated R1 000 per swimmer to the Community Chest.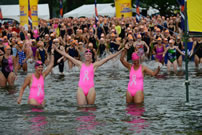 (enlarge photo)

The Pink Drive, which is focused on breast cancer, was well supported, with their swimmers standing out in their pink costumes.

Olympic champion and world record holder Cameron van der Burgh teamed up with fellow breaststroke star Neil Versfeld to cross the dam doing breaststroke in a fast 30 minutes and six seconds. Van der Burgh, through Nivea, raised funds for the Cancer Association of South Africa.


Related world records:
Largest wave surfed: Garrett McNamara breaks Guinness world record (VIDEO)

Most surfers riding the same wave: 120 Surfers set world record (VIDEO)

Most Olympic Medals: Michael Phelps sets world record (PICS & VIDEO)

Oldest person to kitesurf across the English Channel: Richard Branson sets world record

Largest Stand Up Paddleboard Lesson: Standup for the Cure sets world record (PICS & Video)

Biggest ocean wave surfed in a kayak: Tao Berman sets world record (Video)

Longest Kitesurfing Distance in 24 Hours: Rimas Kinka sets world record

Largest wave ever surfed: Garrett McNamara sets world record (Video)

Largest aqua aerobic display: Bosnians break Guinness world record

Largest gathering of bodyboarders: Portugal (Video)

Longest nonstop paddleboard voyage: Cynthia Aguilar (Video)

Longest solo unassisted ocean swim: Penny Palfrey (HD Video)