Tuesday, March 12, 2013

Largest bunting line: Girl Guides broke Guinness world record

Kingston upon Hull, UK -- The Humber Bridge was awash with colour as 517 flags, each measuring two metres, were draped from Hessle to Barton in the name of Comic Relief; the artwork, which spanned the full length of the bridge, was put in place for a few hours on Saturday, setting a new world record for the largest bunting line, according to the World Record Academy: www.worldrecordacademy.com/.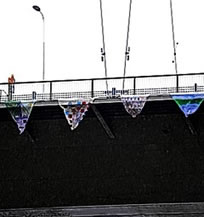 Photo: Some of the 517 bunting flags attached to the Humber Bridge.
(enlarge photo)

The Guinness world record for the longest line of bunting is 3,427.94 m (11,246 ft 6 in) long and was achieved by the Fairtrade Foundation (UK) in London, UK.

Guinness World Records also recognized the world record for the largest flag flown from a flag pole; it was a Mexican national flag measuring 34.3m x 60m (112ft 6.39in x 196ft 10.2in).

The world's largest bunting line made up of 517 flags, each measuring two metres, and individually designed by girl groups as part of the Girl Guiding charity.
The previous world record was 500 flags.

The flags were stitched together by students at the University of Hull, who worked into the early hours of Saturday to get it ready.

It was hoisted into place by Kingstown Works Ltd (KWL), provider of repair and maintenance services, who volunteered their services for free.

Related world records:
Longest tie-and-dye cloth: Inez Harwood breaks Guinness world record

Longest tie-and-dye cloth: Inez Harwood breaks Guinness world record

Biggest peace dove: Dubai breaks Guinness world record

Largest snowball: Silver Star Mountain Resort breaks Guinness world record (VIDEO)

Largest Rubik's Cube mosaic: Cube Works Studio breaks Guinness world record (VIDEO)

Longest string of beads: Little Heroes breaks Guinness world record

Largest toboggan: Lakeland College students break Guinness world record (VIDEO)

Largest paper model of the Titanic: Ronald Luntzn breaks Guinness world record

Largest ship made of styrofoam: Red Sea Mall breaks Guinness world record

Largest envelope: Garima Angel breaks Guinness world record

Largest aluminium can sculpture: UAE breaks Guinness world record

Largest masking tape ball: Aurora school sets world record (VIDEO)

Largest Photo Mosaic: Transitions Optical Breaks Guinness World Record

Biggest tennis racket: New York team sets world record (VIDEO)

Largest sock mosaic: Artists Anat and Ehud Shamai set world record

Largest Drumsticks: 900-pound drumsticks sets world record (VIDEO)

Longest modular kayak: LL Bean sets world record (VIDEO)

Largest coin mosaic: SEB Bank sets world record (PICS & VIDEO)

.

Longest Baby Belt: Mary Jane Francois sets world record

Largest Chess Piece: St. Louis sets world record (Video)

Largest trophy: QuickTrophy LLC sets world record (Video)

Longest string of bottle caps: Ambrosoli pupils set world record