Monday, September 20, 2010

Longest cucumber - world record set by Clare Pearce
WHITTLESEY, UK -- Clare Pearce, a 78-year-old grandmother of 12, has grown a cucumber measuring 42 inches (1,19 m) in a straight line from top to bottom - setting the new world record for the Longest cucumber.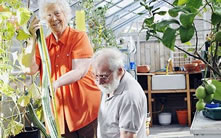 Photo: Mr and Mrs Pearce and the World's Largest Cucumber grown at their Peterborough home. Photo David Rose (enlarge photo)

Mrs Pearce planted the Cucumber Melonie seeds in the greenhouse in the back garden of her home in Whittlesey, near Peterborough, in May.

The 78-year-old grandmother of 12 said: "At times it was like it was growing before my eyes. I couldn't quite believe it. I've never grown cucumbers before but I knew it was massive. "

The previous world record for the Longest cucumber was a a three-foot, ten-inch long cucumber ( 46.5 inches, about 118 cm ) grown by Israeli Yitzhak Yazdanpana.

The previous Guinness World Record for the longest cucumber was set almost two years ago by Frank Dimmock of Thame in Oxfordshire. His effort reached 41.25in.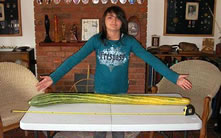 "I've no idea why they grew to be so big," added Mrs Pearce, a retired administrator.

(enlarge photo)

"I just watered them. The only thing I can think that I did differently was that once, fairly early on, I was feeding the tomatoes with tomato feed and I had a bit too much, so I used up what was left on the cucumbers."

Subscribe to our RSS News feed to receive updates.

Related world records:
Smallest Waterlily - Nymphaea thermarum

Most diverse repository of crop seeds - Svalbard Global Seed Vault

Biggest Mango - Sergio and Maria Socorro Bodiongan

Oldest Living Palmer's Oak- Jurupa Oak

Tallest Zinnia - Everett Wallace Jr. and Melody Wagner

Tallest living Christmas tree - Coeur d'Alene

Smallest orchid - Lou Jost

Largest maple leaf - Hailey Nickolson

Most tomatoes grown on a single truss - Graham Tranter

Tallest rose bush - Robert Bendel

Largest pumpkin - Christy Harp

Heaviest gooseberry-world record set by Bryan Nellist

Tallest Cactus - SDM College of Dental Sciences

Largest rutabaga - Scott Robb

Largest cabbage - Steve Hubacek

Longest Cucumber - Yitzhak Yazdanpana

Largest organic cucumber - Segee family

Largest potato - Khalil Semhat

Largest rutabaga-world record set by Norm Craven

Most cobs on a maize plant - Mark Wozencroft

Largest marrow - Ken Dade

Longest Spaghetti Bean - Toni Velardo

Longest water spinach -Li Hui

Largest horizontal wall of flowers - Thompson and Morgan

Tallest Amaranth plant - Jesse Eldrid

Oldest living tree - Swedish spruce

Longest dandelion - Bjorn Magne

Monday, September 20, 2010