Longest dandelion found by Bjorn Magne set world record

[June 12] KLOVE, Norway--Bjørn Magne, from Kløve in Hordaland County in western Norway, had found a 108 centimeters dandelion while on a forest hike with her mother last Sunday.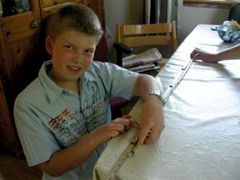 Photo:
Bjørn Magne and his world's longest dandelion 'in captivity'.
Photo by
Jon Halstein Tjore/Strilen

His mother Nina believes that a cold spring and hot summer may have provided perfect growing conditions. Previous registered world record dandelion has only 100 centimeters (39.37 inches).



Photo:
The world's longest dandelion 'in captivity'.
photo by Nina Hauge

The family ensured that two independent witnesses viewed the plant - Principal Turid Tvedt from Kløvheim School and journalist Jon Tjore of the local newspaper Strilen - and they could confirm that it was 108 centimeters.


Reported by Aftenposten, Norway