Monday, December 24, 2012

Youngest record producer: DJ Jack Hill sets world record (VIDEO)

Weston-super-Mare, UK -- DJ Jack Hill, 12, of Weston-super-Mare, Somerset, is releasing a new single, Club DJ; the three minute dub-step tune features Jack voicing his own lyrics about the DJ industry; it sets the world record for the youngest record producer, according to the World Record Academy: www.worldrecordacademy.com/.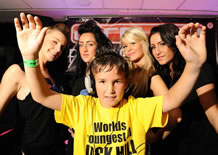 Photo: Jack has now claimed another title by writing, producing and mixing his first track, Club DJ, to be released in January. (enlarge photo)

The Guinness world record holder for the youngest sports commentator is Zach Spedden (USA) (b. 8 July 1992), who on 25 August 2002 called an entire nine inning baseball game aged 10 years 48 days.

Guinness World Records also recognized the world record for the youngest radio presenter, set by Kimberley Perez (b. 20 February 1998) (USA), who hosts a show every Saturday 3-7pm, on KLAX 97.9 La Raza FM, in Los Angeles, California, USA, which started when she was 5 years old.

Jack, who features in the 2013 Guinness Book of World Records, started writing his song at the age of 10.

He said: "It is something I have wanted to do for ages so I'm really pleased to have finished it.

"It was so much fun to do. I want to get a record label so I can bring out more songs.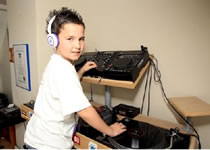 (enlarge photo)

"It is really cool to make my own song and have other people listen to my music. I hope it will get played on Kiss FM or Radio One.

"I'll definitely play it on my radio show too."

He spent two days in studios owned by DJ Gareth Clegg in Bristol – laying down his music first before adding lyrics.

Talented Jack first stepped into the DJ booth helping dad Bob run his mobile karaoke disco as just three. He now runs solo discos on Saturday night and has his own show at 7am on Sundays, on local station Nova 107.7 FM.

On the web:
Dj Jack Hill's website

Dad Bob, 47, said: "He came up with the idea and has done everything himself. The lyrics are about the DJ world and his Guinness World Record.

"I support him in any way I can because I know he has a natural talent and is going to be big in the music scene."

Jack now has five world records to his including youngest DJ and club DJ.

Related world records:
Youngest human DJ: Jack Hill

Youngest DJ to beat mix 10 songs in 1 minute: DJ Jack Hill

Most Successful Young Dj: Jack Hill

Youngest male radio presenter-world record set by Jack Hill

Youngest Stock Car Driver: Braden DuBois sets world record (PICS & VIDEO)

Youngest fashion designer: Duda Bündchen sets world record (PICS & Video)

Youngest Zumba Instructor: Catalina Mejia sets world record (Video)

Youngest DJ to beat mix 10 songs in 1 minute: DJ Jack Hill sets world record (Video)

Youngest licensed stockbroker: John Wang Clow sets world record

Youngest table tennis player: Jamie Myska-Buddell sets world record (Video)

Youngest Cancer Researcher: Angela Zhang sets world record (Video)

Youngest stock car driver: Dustin Jackson (Video)

Youngest App Developer: Thomas Suarez (Video)

Youngest judge: 17-Year-Old Judge

Youngest archeologist: Emily Baldry (Video)

Youngest nuclear scientist: Taylor Wilson (Video)

Youngest TV reporter: Five-year-old Jane Haubrich (Video)

Youngest preacher: Kanon Tipton (HD Video)

.

Youngest Professional Drummer: Julian Pavone (Video)

Youngest climber to conquer the Seven Summits: George Atkinson

Youngest professional soccer player: Baerke van der Meij (Video)

Youngest astrophysics researcher: Jacob Barnett (Video)

Youngest Gamer to Achieve a Perfect Score on Dance Dance Revolution: Ryota Wada

Youngest to make a lifesaving call: 3 Year Old AJ Hayes

Youngest Yoga Teacher: 6-Year-Old Shruti Pandey

Youngest Singer: 3 Year-Old Atithi Gautam

Youngest person to discover a supernova: 10-Year-Old Kathryn Gray

Youngest World Map memorizer: 6-Year-Old Mohamed Ashik

Youngest live portrait artist: Harris Imtiyaz Khan

Youngest to state all the U.S capitals: Shruthi Vairavan

Last update: Monday, November 18, 2013 4:29 PM