Wednesday, April 11, 2012

Youngest Zumba Instructor: Catalina Mejia sets world record (Video)

Gaithersburg, MD, USA--Catalina Mejia, 15, works as a Zumba instructor at Studio X in Gaithersburg; she has been certified to teach the aerobic fitness program for four years (at 11 years 4 months and 12 days) - setting the new world record for the Youngest Zumba Instructor, according to the World Record Academy: www.worldrecordacademy.com/.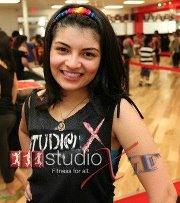 Photo: Catalina Mejia, The World's Youngest Zumba Instructor.

The Guinness world record for the largest Zumba® class involved 2,012 participants and was achieved by Zumbawear UK (UK) at Marble Hill, Twickenham, UK.

Guinness World Records also recognized the world record for the greatest number of people participating in circuit training at a single venue: 317, achieved by We Promote Health, Inc. (USA) in Ellicott City, Maryland, USA. The workout stations consisted of Zumba, Legs & Lower Body, Running, Core, Plyometrics and Arms.

Her mom Patricia Arenas was the one who introduced her to Zumba. Arenas had taken a class at work and, knowing how much her 10-year-old loved to dance, brought her along to instructor Azuka Boutcher's gym in Alexandria.

Catalina was hooked on going to classes and soon asked Boutcher how she could become a Zumba instructor. The answer was simple: Go to the next certification.

She spent the next few months dedicated to her dancing, and then one morning in December, her mom dropped her off at Zumba instructor training.

The course involved going over the four foundational rhythms (merengue, salsa, cumbia and reggaeton), practicing how to string steps together and learning how to structure a class.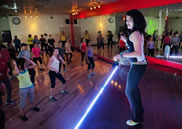 Photo: Catalina Mejia, the world's youngest Zumba instructor, in action during class in Gaithersburg, MD. (enlarge photo)

When her mom picked her up nine hours later, though they didn't know it yet, Catalina was a world-record holder.

She started a Zumba club at school.

Even though she could keep going and going, Catalina limits her teaching to weekends. Her classes at Wootton High School in Rockville come first, she says. By that, she means the ones in which she's a student, although she has led Zumba classes for faculty and students before.

Part of her passion is fueled by her admiration of Beto Perez, the Colombian who created Zumba. "He's my idol. I look up to him so much," she says.

Related world records:
Youngest table tennis player: Jamie Myska-Buddell sets world record (Video)

Youngest Cancer Researcher: Angela Zhang sets world record (Video)

Youngest stock car driver: Dustin Jackson (Video)

Youngest App Developer: Thomas Suarez (Video)

Youngest judge: 17-Year-Old Judge

Youngest archeologist: Emily Baldry (Video)

Youngest nuclear scientist: Taylor Wilson (Video)

Youngest TV reporter: Five-year-old Jane Haubrich (Video)

Youngest preacher: Kanon Tipton (HD Video)

.

Youngest Professional Drummer: Julian Pavone (Video)

Youngest climber to conquer the Seven Summits: George Atkinson

Youngest professional soccer player: Baerke van der Meij (Video)

Youngest astrophysics researcher: Jacob Barnett (Video)

Youngest Gamer to Achieve a Perfect Score on Dance Dance Revolution: Ryota Wada

Youngest to make a lifesaving call: 3 Year Old AJ Hayes

Youngest Yoga Teacher: 6-Year-Old Shruti Pandey

Youngest Singer: 3 Year-Old Atithi Gautam

Youngest person to discover a supernova: 10-Year-Old Kathryn Gray

Youngest World Map memorizer: 6-Year-Old Mohamed Ashik

Youngest live portrait artist: Harris Imtiyaz Khan

Youngest to state all the U.S capitals: Shruthi Vairavan

Youngest to state all the U.S capitals: Shruthi Vairavan

Youngest Opera Singer: Jackie Evancho

Youngest FisherGirl: Ella Windschitl

Youngest to climb Mount Everest: Jordan Romero

Youngest to circumnavigate the globe: Jessica Watson

Youngest Golfer to Score a Hole-in-One: Eleanor Gamble

Youngest person to have built an electric truck: Deitrich Ludwig

Youngest Vacuum Cleaners Specialist: Kyle Krichbaum

Youngest drum corps queen: Julia Lira

Youngest to climb world's highest peaks: Johnny Collinson

Youngest successful painter: Kieron Williamson

Youngest Skateboarder: Evan Wasser

Youngest wing-walker: Tiger Brewer

Youngest solo pilot to fly five different aircrafts: Evan Graham

Youngest String Orchestra to Play at Carnegie Hall: South Pasadena Children's Orchestra

Youngest Billiard Player: Keith O'Dell Jr

Youngest male radio presenter: Jack Hill

Youngest college lecturer: Aman Rehman

Youngest passenger on wheightless flight: Jules Nader

Youngest Successful Singer: Cleopatra Stratan

Youngest to solo airplane and helicopters on same day: Errick Smith

Youngest DJ: Jack Hill

Youngest Person Performing Carnatic Music on the Violin: Sandeep N Bharadwaj

Most expensive Baby photos: Angelina Jolie's twins

Youngest swimmer Maharnth

Youngest college professor: Alia Sabur

Youngest pilot to set world flight records: Jonathan Strickland
Youngest leader of the Formula One world championship

Youngest lead climbing world champion: Johanna Ernst

Youngest person to win a Japanese Golf male tournament

Youngest relay team to swim the English Channel: English swimmers

Wednesday, April 11, 2012 4:27 PM