Monday, October 18, 2010

Most Successful Young Dj - Jack Hill sets world record
Weston-super-Mare, UK--Jack Hill, 10, has been spinning the decks since he was three and has been hitting the headlines throughout his childhood after gaining a series of World Records: The Youngest DJ and the Youngest male radio presenter (both from World Record Academy) and the Guinness World Record for the Youngest Club DJ - setting now the world record for the Most Successful Young DJ.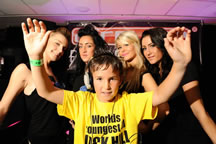 Photo: Jack Hill, The World's Most Successful Young DJ.

(enlarge photo)

Jack, The World's Most Successful Young DJ, was just 3 years old when he first showed a interest in dj'ing. When he was 4 he had his first starter dj dual cd players for Christmas, and would spent hours spinning his favourite songs.

At 5 yrs he would attend children's parties with his dad and would play music and introduce songs, this is when he really started to get noticed.
At 6 he was playing a few tunes at a local bar prior to a evening gig that bob his dad was doing.
The bar owner Chris kimitri spotted Jack and suggested jack played a family gig outside the Nook and Harbour, Weston super mare.

Jack's dad, Bob, tells the story: "On Saturday 5th may 2007 Jack still only 6 years old, was ready for his first ever paid gig.
"He performed for two hours, the story was featured in the sun newspaper as jack on the box because he was so small he had to stand on a box to reach the controls.
World Record Academy said they would register the record and Jack was named youngest dj and gained his first world record certificate. He was featured on bbc news west who did a story about Jack."

On the Net: http://www.djjackhill.co.uk/

Jack is determined to fulfil his dream career as a DJ and recently played at BPM, Europe's biggest event dedicated to DJing, electronic music production and club culture.
The event is attended by DJs, producers, performers, promoters and record label representatives.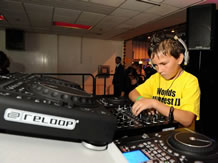 (enlarge photo)

Jack's dad Bob said: "Jack played at Europe's biggest DJ event on October 3, at the N.E.C Birmingham.
"He mixed for 40 minutes and had people amazed by how good he is. I was stunned by his performance, he is much better than me, he's a natural and that's what everyone says.
"I was very proud seeing him up there on stage with other top DJs including Paul Van Dyk. "Jack really enjoyed his set and was not nervous playing in front of other celebrity DJ's."

Subscribe to our free RSS News feed to receive updates.

Related world records:
Oldest Female DJ - Mammy Rock

Most concerts performed in 24 hours - Vicente Patiz

Longest stand-up performance - Comedian Bob Marley

Youngest male radio presenter - Jack Hill

Longest Continuous Broadcast - Nikora Curtis

Longest Individual Karaoke Marathon - Ken Parsons

Most Recorded Artist - Asha Bhonsle

Most Successful Entertainer of All Time - Michael Jackson

Most Successful Musical Debut - Susan Boyle

Monday, October 18, 2010