Friday, April 20, 2012

Youngest fashion designer: Duda Bündchen sets world record (PICS & Video)

São Paulo, Brazil--Duda Bundchen, the 5-year-old niece of Brazilian supermodel Gisele Bundchen, has become a designer for Brazilian clothing company Brandili Mundi , setting the world record for the Youngest fashion designer, according to the World Record Academy: www.worldrecordacademy.com/.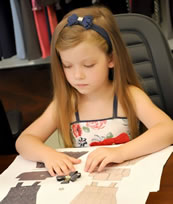 Photo: Duda Bündchen, the World's Youngest Fashion Designer hard at work on her collaborative collection with Brandili Mundi. (enlarge photo)

The Guinness world record for the Oldest profssional fashion model was set by professional model Daphne Selfe (UK) of Baldock, Hertfordshire, UK; her modelling career spans more than 60 years and includes appearances for the likes of Dolce & Gabbana, Gap, Nivea, Olay, Tata-Naka and Michiko Koshino.

Guinness World Records also recognized the world record for the most models modelling on a catwalk: 282, achieved by Have a Good Dream Co., Ltd and Thai Beverage Marketing Co., Ltd (both Thailand) at The Esplanade, Bangkok, Thailand.

The new fashionista is Duda Bunchen, niece to model Gisele Bundchen, who is only five years old.

Germano Costa, commercial and marketing director of Brandili Textil, told Forbes ''She told us about her preferences on prints, cuts and details, and based on the briefing we received from her we came up with a collaborative collection.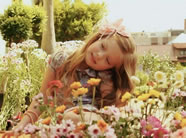 ''The pieces were all approved by Duda, whose romantic inspiration will no doubt catch girls' eyes.''
(enlarge photo)

The line has been created and produced with eco-friendly materials, and is expected to his stores in the South American country in June.

Forbes reports that 30 pros worked on the Duda campaign -- fashion producers, hairstylists, make-up artists, photographers and assistants -- while Duda's parents, Raquel Bundchen (Gisele's sister) and Paulo Borges, were also present on the set.

Duda's parents have however insisted that they have only gone along with the scheme because it makes their daughter happy.

"Raquel and I are here because of her, not because of us," Duda's father Paulo Borges remarked.
"To see the joy in our daughter is what matters most."

Related world records:
Fashion World Records

Youngest Zumba Instructor: Catalina Mejia sets world record (Video)

Youngest DJ to beat mix 10 songs in 1 minute: DJ Jack Hill sets world record (Video)

Youngest licensed stockbroker: John Wang Clow sets world record

Youngest table tennis player: Jamie Myska-Buddell sets world record (Video)

Youngest Cancer Researcher: Angela Zhang sets world record (Video)

Youngest stock car driver: Dustin Jackson (Video)

Youngest App Developer: Thomas Suarez (Video)

Youngest judge: 17-Year-Old Judge

Youngest archeologist: Emily Baldry (Video)

Youngest nuclear scientist: Taylor Wilson (Video)

Youngest TV reporter: Five-year-old Jane Haubrich (Video)

Youngest preacher: Kanon Tipton (HD Video)

.

Youngest Professional Drummer: Julian Pavone (Video)

Youngest climber to conquer the Seven Summits: George Atkinson

Youngest professional soccer player: Baerke van der Meij (Video)

Youngest astrophysics researcher: Jacob Barnett (Video)

Youngest Gamer to Achieve a Perfect Score on Dance Dance Revolution: Ryota Wada

Youngest to make a lifesaving call: 3 Year Old AJ Hayes

Youngest Yoga Teacher: 6-Year-Old Shruti Pandey

Youngest Singer: 3 Year-Old Atithi Gautam

Youngest person to discover a supernova: 10-Year-Old Kathryn Gray

Friday, April 20, 2012 8:45 AM