Thursday, February 10, 2011

Fastest rowing across the Atlantic: Team Hallin sets world record (Video)

Port St Charles, Barbados -- Team Hallin, an elite British rowing group of six (Jack Stonehouse, Paddy Thomas, Chris Covey, Naomi Hoogesteger, Skipper David Hosking and Justin Johanneson) have succeeded in rowing from the Canary Islands to the Caribbean in 31 days, 23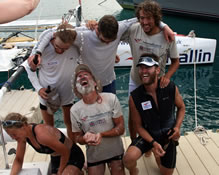 hours, 31 minutes - setting the new world record for the Fastest rowing across the Atlantic.

(enlarge photo)

Team spokesman Martin Prest said: "Despite all the pain and blisters, they said it was completely worth it. They're utterly exhausted, but its nice to know they've enjoyed themselves."

The British team, called Hallin, broke the Guinness world record for the 3,000-mile row after crossing the finishing line in 31 days, 23 hours and 31 minutes, beating the previous Guinness World record by 20 hours and 14 minutes.

The Guinness world record for fastest solo and unsupported crossing of the North Atlantic by sea kayak was achieved by Peter Bray (UK) in 76 days.

Guinness World Records also recognized the fastest transatlantic crossing made completely under solar power is 29 days by sun21 (Switzerland) and its crew of five from Las Palmas, Gran Canaria to Le Marin, Martinique.

East to West Transatlantic Record is the ultimate prize in ocean rowing.

The previous Guinness World record was also set between the Canary Islands and Barbados – a 3,000-mie route. Team Hallin followed the same course for its record run.

Since setting off from Tenerife, the team has been hit in the face by flying fish, narrowly avoided a collision with a 20,000 ton cargo ship, had their legs burned by flares and developed sores on their bottoms.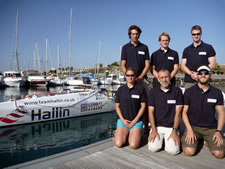 Photo: Team Hallin, back from left, Jack Stonehouse, Paddy Thomas and Chris Covey. Front, from left, Naomi Hoogesteger, Skipper David Hosking MBE and Justin Johanneson.
(enlarge photo)

They've been rowing in two hour shifts, 24 hours a day which, with three rowing at any given time, meant no more than two hours off.

They endured 30ft waves, narrowly escaped being hit by a Russian cargo ship and were even hit by flying fish.

There have been blisters to contend with too. Not just one or two, but dozens. They dealt with those they had to sit on by cutting out sections of their padded seats to alleviate the pressure.

Each shift rowed for two hours and then used their two-hour break to eat, repair the boat and sleep. Each rower lost more than 2st on the voyage.

The skipper, 56-year-old former Royal Navy Commander David Hosking, who lives in Wimbledon, said: 'It was fantastic teamwork from an amazing bunch.'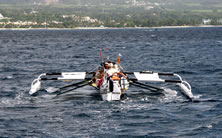 (enlarge photo)

The team, which also included Jack Stonehouse, 21, from Bristol, Paddy Thomas, 28, from Dorset, Justin Johanneson, 35, from London, and Chris Covey, 25, from Cambridge, is raising money for veterans' charity Combat Stress.

Ecstatic family and friends accompanied the rowers on their last two miles into Port St Charles after a marathon journey which tested their endurance to the limit.

The world record breaking attempt has been made possible by sponsorship from Hallin Marine, an integrated subsea services provider to the energy industries.

Team Hallin aims to raise £60,000 (US$96,702) for Combat Stress, the UK's leading military charity specialising in the care of UK service veterans' mental health

Team member Chris Covey said: "We are doing this to break a world record and to raise money for a very deserving cause, but, if I ever go near a boat again, just shoot me."

Subscribe to our free RSS News feed to receive updates.

Related world records:
Fastest crossing of the English Channel on a wakeboard: Edward Bosso

First Women To Row Nonstop Around Britain: The Seagals

Longest voyage by a boat made of plastic bottles: Plastiki

Longest distance traveled on a wakeboard: Wake Nation team

Longest sea voyage - Reid Stowe

Youngest to circumnavigate the globe - Jessica Watson

Youngest rower to cross an ocean solo - Katie Spotz

Longest solo kayak journey - Helen Skelton

Youngest to sail solo around world - Zac Sunderland

Most miles paddled in 24 hours on Stand Up Paddle Board - Justin DeBree

Longest Stand Up Paddle board journey - Justin DeBree

Fastest circumnavigation using Biodiesel - Earthrace

Fastest vertical circumnavigation - Adrian Flanagan

Longest distance traveled on a personal watercraft in a 24-hour period - Mike Pagliccia

Longest voyage by a wave-powered boat - Kenichi Horie

Thursday, February 10, 2011