Longest Stand Up Paddle board journey-world record set by Justin DeBree

COCOA BEACH, FL, USA -- Justin DeBree, a 27-year-old surfer from Cocoa Beach, entered the dock in St. Marys, Georgia, after paddling all the way up from Key Biscayne, Florida, a total of 420 miles-setting the world record for the Longest Stand Up Paddle Board journey. He did this for awareness to the World Skin Cancer Foundation.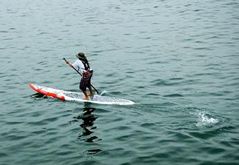 Photo: "This journey was done completely on the board you see in the picture, all while standing, and all under the power of nothing but me and my single bladed paddle. "
(enlarge photo)
He also set the new world record for the most miles paddled in 24 hours: 49 miles
from Stuart,FL, to the Sebastian Inlet,FL (between 0800 June 23 - 0900 June 24, 2008).
"I couldn't think of a better way to bring attention to the World Skin Cancer Foundation, the Beach Signage Sun Safety program or this great sport," said DeBree, a lifelong surfer and a sales representative for DeWalt power tools, who used his work vacation time and donated his salary from DeWALT for each day of his journey.

The biggest problem Cocoa Beach's Justin DeBree has faced is weather. "The weather's been so unpredictable," said DeBree, who is making the journey without support on the water.

When he has been on the water, anywhere from 50 yards to three miles offshore, with just his feet on the board and a three-gallon pack on his back, he's basically at the mercy of the ocean.

"I've seen so much wildlife," said DeBree. It's been completely entertaining. I've seen tiger sharks. I've seen tons of tarpon and cobia, I actually had four schools of cobia follow me. I can't tell you how many turtles I've seen. It's been unreal."

Over one million cases of skin cancer are diagnosed every year and over 10,000 people die from skin cancer annually.

DeBree's mother, Diana Feast of Jupiter, said she is proud of her son for promoting skin-cancer awareness and an active, healthy lifestyle. She admits to being just a little worried but expected him to complete the trip.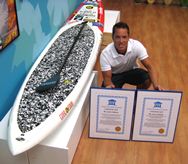 Stand up paddle surfing, or SUP, is a surface water sport, a variant of surfing where the surfer uses a paddle to move through the water while standing on a surfboard.

(enlarge photo)

Besides promoting our beach signage, raising awareness and a little bit of funds, there was something obvious that supports the feelings of the World Skin Cancer Foundation. Justin's normally dark tan was gone. After two weeks of being on the water, Justin had no evidence of any sun exposure. By using the Slip, Slap, Slop rules, Justin was able to enjoy the outdoors safer than usual.

World Skin Cancer Foundation: "We don't want to scare people from using the outdoors. We just want people to be smart when they use them."

Justin DeBree:"Sometimes when you go do challenges like this, it makes me think everybody can make a difference, even my little self," he said. "I think it's going to make me do other things to help the world, as lame as it may sound. It just makes me want to do more."

Justin's Journey Sponsors: The World Skin Cancer Foundation, Kialoa Paddle Company, DNA Energy Drink, Clif Bars,
Black & Decker, Brighthouse Networks, The Beachside Resident, Sungrubbies.com, DEWALT Industrial Power Tools, Volcom, Wayfast Signs, Currentcy, Island Cosmetic & Family Dentistry, Mainsail Realty, Williams Edward Construction, The Cottage Pub, Rusty's Seafood, Smith Barney, Meyers Cabinetry,
16 streets.com, 2ndlight.com & Jobbeedu Body Protective Wear.


Stand up paddle surfing is derived from its Polynesian roots. The Hawaiian translation is Ku Hoe He'e Nalu; to stand, to paddle, to surf, a wave. The popularity of the modern sport of SUP has its origination in the Hawaiian Islands.

In the early 1960s the Beach Boys of Waikiki would stand on their long boards and paddle out with outrigger paddles to take pictures of the tourists learning to surf. This is where the term "Beach Boy Surfing" originates, another name for Stand Up Paddle Surfing.

One difference between the modern idea of surfing and SUP is that the latter does not need a wave. In SUP, one can paddle on the open ocean, in harbors, on lakes, rivers or any large body of water. One of the advantages of Stand Up Paddle Surfing is the angle of visibility. Because of the standing height over the water one can see both deeper into the water and further across the surface of the water, allowing better visualization of features others lower above the water may not be able to see, whether it is the marine life in the harbors, lakes and coves or the incoming swells of the ocean marching on the horizon

Wednesday, July 16, 2008

Related:
Most miles paddled in 24 hours on Stand Up Paddle Board -world record set by Justin DeBree

Longest paddleboard journey set three world records