Fastest vertical circumnavigation-Adrian Flanagan sets world record
[May 22]LONDON, UK--After a journey that involved 405 days alone at sea, Adrian Flanagan, 47, is the first solo yachtsman ever to circumnavigate the globe through the icebound Arctic.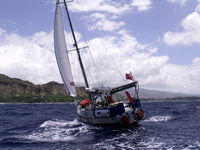 Photo: Adrian Flanagan said it was a relief to have finished the journey; he has set the new world record for the fastest "vertical' circumnavigation

(enlarge photo)

Moments after finishing, Mr Flanagan said he felt a "tremendous relief" to finish. "I am pleased to be here, It's great," he said. "Doing what I did was something I had to do and I had pursued it since childhood."

He moored in Hamble, Hampshire, after more than 29,700 miles (47,797 km).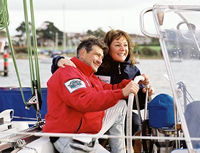 His ex-wife Louise, who managed the challenge, and the couple's two children, Benjamin, nine, and Gabriel, six, were among those at The Royal Southern Yacht Club to welcome him home.

(enlarge photo)

He said the dangers of the voyage had been acute, and he told reporters that because of his family there was "not a prayer" he would do it again.

It had been an incident-packed voyage for the former business development manager and qualified osteopath.
During his voyage he was washed overboard from his yacht, Barrabas, and dislocated both wrists. He also suffered two knock-downs at Cape Horn and was tracked by pirates off Brazil.

He failed to clip on his safety line during a storm in the Channel and felt a wave hit him as he stood on deck. "The next think I knew, I had landed in the drink," he said.

He lunged for the boat and managed to grab a guard wire with his middle finger, but could not pull himself back on board. He felt "with absolute certainty" that all was lost when a wave washed him back on deck. "I was very lucky. I guess my card wasn't up."

Another deadly threat awaited him near the shipping lanes off the coast of Brazil, where pirates regularly board vessels to steal at gunpoint. He first noticed a contact on his radar but thought little of it and fell asleep. "When I woke I saw 200 yards in front of me there was a stationary vessel. I thought it might be a patrol vessel, but she wasn't. She was bristling with electronic surveillance. I sailed past her. I reckon she was waiting near the shipping lanes for a better target."

The pirate vessel followed him for two days, waiting for him to make a mistake. "I armed my weapon. I had a pump-action shotgun on board specifically for that purpose. I stayed awake for 48 hours. I figured that if they were going to attack it was going to be in the early hours of the morning if they thought I wasn't paying attention." His vigilance paid off, and the pirates lost interest.

A true circumnavigation of the world happens when a vessel's track passes over two points "antipodal" to each other – diametrically opposite across the Earth. Mr Flanagan set out to do it via the polar regions.

The first known circumnavigation was recorded in 1522, by members of Ferdinand Magellan's expedition to find a route to the Spice Islands by sailing west. In modern times, sailing adventurers such as Sir Robin Knox-Johnston and Sir Francis have completed circumnavigations.

"It was Sir Francis who inspired me to make this voyage after I read Gipsy Moth Circles the World as a 15-year-old schoolboy," explained Mr Flanagan.

Mr Flanagan has completed the voyage without a major sponsor and his boat is now up for sale.

The yachtsman said: "I feel huge pride in my yacht Barrabas. She has seen me through fair weather and foul. As the first British flagged yacht to enter Russia's Arctic territorial waters, her place in sailing history is assured."

"I hope the legacy of the Alpha Global Expedition will be an inspiration to my two sons, Benjamin and Gabriel, and to anyone else to chase their own dreams, just as Chichester inspired me."

On two occasions Mr Flanagan had to stop sailing. Once when he was waiting for permission from the Russian government to sail through the Arctic and once when conditions were too treacherous off the Norwegian coast and he wintered there.

He also hitched a ride with a ship in the Russian Arctic because the sea was still icebound.

His efforts nearly came to nothing when the Russian authorities refused him permission to sail the last leg of his journey along their Arctic coast alone.

That was until he appealed to Roman Abramovich, the Russian billionaire who owns Chelsea Football Club, for help and was given the green light – making him the first yachtsman allowed to travel the notorious iceberg-littered Northern Sea Route single-handedly.

The World Sailing Speed Record Council does not consider this a record, as Mr Flanagan stopped twice.

However, the World Record Academy has decided to recognize it as a record into a new category, which may be safer for record breakers anyway: rather than risking their lives in nonstop voyages, record breakers can have a limited number of stops during their attempt.

Mr Flanagan, a former osteopath whose home is near Bicester in Oxfordshire, said that it had taken all his money to realise his dream, which was inspired at the age of 15 when he read Gipsy Moth Circles the World, Sir Francis Chichester's account of his epic voyage.

He has spent his life savings and remortgaged his house, and will now have to sell the battered Barrabas to the highest bidder.

The sailor has also written a book describing his challenge, Over The Top, which will be published later this year.

He said he would now take time to finish the manuscript before embarking on other challenges.

His trip raised money for Oxford Children's Hospital and Save the Children.

Adrian Flanagan: "To live and not to dream is pointless, but to dream and not to live it is worse."

Adrian Flanagan goes Over the Top Video


Alpha Global Expedition Stage One Video


Alpha Global Expedition Stage Two Video

Alpha Global Expedition Stage 3 Video


Alpha Global Expedition Stage 4 Video