Monday, June 21, 2010

Longest sea voyage - world record set by Reid Stowe
NEW YORK CITY, USA -- Artist and adventurer Reid Stowe, 58, had been 1152 days (more than three years ) at sea aboard his 70 ft. Schooner "Anne" , without stopping and without being re-supplied with either food or fuel - setting the new world record for the Longest sea voyage.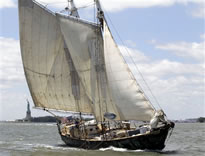 Photo: Sailor Reid Stowe steers his 70-foot schooner "Anne" into New York harbor, past the Statue of Liberty, in New York. AP Photo/Kathy Willens (enlarge photo)

Stowe has become the first person to sail around the world for more than one thousand consecutive days.

However, when the 1000 days were up, he sailed on, preferring, like a true cruising sailor, to arrive in New York when the weather dictated. This involved an extra 152 days.

The GPS satellite system that tracked the voyage provides proof that the schooner had not touched land.

Stowe docked his 70ft schooner in Manhattan in New York City. It was the first time he had touched land in 1,152 days. He anchored in New Jersey for a few days but didn't get off the boat.

"This is a new human experience," Reid said on arrival. "For three years I've been humble and silent, living very close to God and death."

Stowe said his trip breaks a record from the 1890s when a Norwegian ship traveled for 1,067 days. Stowe said he didn't get the record verified with Guinness World Records beforehand because he couldn't afford the entrance fee.

Stowe also met his two-year-old son for the first time. His girlfriend, Soanya Ahmad, had been traveling with him until she was inexplicably homesick after more than 300 days at sea.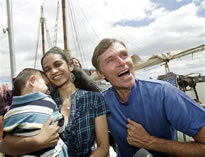 Photo: Sailor Reid Stowe, right, smiles after he landed his 70-foot schooner "Anne" in New York and was reunited with his girlfriend Soanya Ahmad, and their son Darshen, 23 months, whom he'd not yet seen, in New York. AP Photo/Kathy Willens (enlarge photo)

She was taken off the yacht when close to Western Australia, and the reason for her sickness was established by a test once she arrived in Perth. She was pregnant.

"Before we left, we had an agreement that if I had to get off for any reason, he would go on," Ahmad said. "I knew if he came back and didn't finish the voyage, he would just go back again. There was no way he wasn't going to finish it."

At the emotional reunion with Soanya and first meeting with Darshan he admitted, "That was the toughest part of the journey, letting Soanya off the boat."

The toddler, named Darshen, was sleeping in his mother's arms when Stowe arrived at Pier 81 on his home-built schooner, The Anna.

The ship held up remarkably well, despite being hit by another boat after just 15 days at sea, and having its sails torn during a close encounter rounding Cape Horn. The rent sails kept him from being able to sail into the wind the duration of the journey.

Restaurants donated food, including rice, beans, tomato sauce, pasta, chocolate and spices. Other companies contributed as well, donating money, a GPS system and even the costs and maintenance of his website. Stowe's parents also assisted.

To keep himself busy for the last two years, Stowe repaired torn sails, painted, practiced yoga and wrote a book that he hopes to get published. He was able to send e-mails and make satellite phone calls.

He said he planned to repair his boat — which he and his family built more than 30 years ago — and he hopes to tour around the country's waterways with his family.

"This is my life," Stowe said. "This is what I do."

Subscribe to our RSS News feed to receive updates.
Related world records:
Youngest to circumnavigate the globe - Jessica Watson sets world record

Youngest rower to cross an ocean solo - Katie Spotz sets world record

Longest solo kayak journey - Helen Skelton sets world record

Youngest to sail solo around world-Zac Sunderland sets world record

Most miles paddled in 24 hours on Stand Up Paddle Board -world record set by Justin DeBree

Longest Stand Up Paddle board journey-world record set by Justin DeBree

Fastest circumnavigation using Biodiesel-Earthrace sets world record

Fastest vertical circumnavigation-Adrian Flanagan sets world record

Longest distance traveled on a personal watercraft in a 24-hour period-world record set by Mike Pagliccia

Longest voyage by a wave-powered boat-world record set by Kenichi Horie

Monday, June 21, 2010