Most countries visited-world record set by Kashi Samaddar

PRISTINA, Kosovo -- Kashi Samaddar, 52, a Dubai-based businessman (born in Calcutta, India) has travelled to 218 countries-setting the world record for the Most countries visited. He is also the first person to visit all 194 sovereign states with his mission of Travel, Tourism and Peace.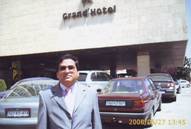 Photo: On May 27, 2008, Kashi Samaddar became the first person in the world to visit all 194 sovereign states. The first country he visited was Uruguay and the last province was Kosovo in Serbia on May 27 last year-see photo.
(enlarge photo)

"Indians need a visa to travel anywhere outside their country. There were times when I had opportunities to get an Australian or Canadian citizenship but I declined the offer because I wanted to prove to the world that an Indian is capable of travelling so much without changing his passport," he says.

For Samaddar in his 50s, it all began way back in 2003 on October 28, when he was denied a visa from a southern African country because of his nationality. Feeling humiliated he made a promise to himself that he would travel to all the countries in the world as a mark of defiance.

Through travelling, Samaddar also hopes to bridge the gap between several cultures. "People are friendly in most parts of the world but they perceive Indians as troublemakers and therefore reject their visa," he says.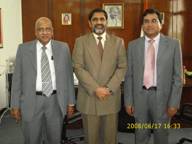 Photo: With Indian Consul General Dubai HH Rajamoni and President Indian Bengali Asso, Dubai Mr Soumitra Das upon completion of all, at Dubai. (enlarge photo)

While the entire world trip experience exposed him to beautiful countries, breath-taking scenery, endless hospitality, it also highlighted the vast inequalities faced by many travellers, who, because of the passport they hold can have major difficulties entering certain countries.

His closest competitor, Samaddar says, is a German, who has clocked 160 countries.

However, travelling to countries like Iraq and Central Africa wasn't easy. "Once I was travelling from Somalia to Djibouti with my wife Barnali and we lost our luggage that had important documents. That was a difficult trip," he says. Samaddar's wife has accompanied him to over 70 countries.

"The most difficult visa to get was Moldova, which took me almost three years with many rejections. The problem isn't with big countries like America, England or places in Europe, a lot of the time it's smaller countries who don't know what they should be doing," he says.

He visited Tuvalu in the Pacific Nation. This Polynesian island nation is one of the few places on earth that are most vulnerable to global warming. Why? Because, at its highest point, Tuvalu is only five metres above sea level and it's possible the whole country could soon be submerged beneath the water.
"It is one of the least polluting countries in the world but faces a threat because of the pollution. 35 years down the line, if nothing is done, this island will not exist," he says.

Because of the difficulties some nationalities have entering certain countries, back in Dubai, Kashi and some partners decided to set up the web site Travel, Tourism and Peace Global, www.ttpglobal.com, which provides travellers with up to date advice on exactly what they will need to be allowed access into different countries.
Samaddar spent all his life savings on his travels. "I spent about Dh2.45 million (U$ 700,000). I had to try visa for Macedonia- 08 times, Solomon Islands- 06 times.
My wife accompanied me to some countries and she has been all along with my close family and friends, supportive of my idea to travel around the world."

But visa issues aside, Kashi says his around- the-world trip included plenty of postcard moments, including visiting the Alps mountain range and some fantastic spots in South America.
"I think Brazil is a very good destination, for everybody," says Kashi. "In Rio de Janeiro, when you get in the taxi, if you are from England they'll play an English music cassette, if you're Chinese they play a Chinese cassette and if you're Indian they'll play an Indian cassette. "The people are lovely."

"Some of the great destinations that I would suggest are Copacabana Beach in Rio Di Janeiro, Brazil, the Kovalom Beach in India, Colonia at Micronesia- Margarita in Venezuela and Mala Mala at Nadi Fiji."
"The towns at the foot of the Alps, Andes or Himalayas are just magnificent. I came across breath-taking views at Black River, Amazon." Samaddar added he is concerned about global warming and that he saw the Arctic icecaps melting.

Flight tips
-Doctor's prescription
-Book hotel in advance over the Net or a travel agent
- Get sufficient sleep before flight if possible
- Drink plenty of water or juice when on board
- Use moisturising lotion
- Don't drink alcohol
- Don't take paracetamol and sleeping pills
- Keep money in two or three different places
- Don't carry your wallet in back pocket

Thursday, January 22, 2009