Wednesday, August 11, 2010


First Women To Row Nonstop Around Britain - The Seagals sets world record

LONDON, UK -- Belinda Kirk, 35, from Bristol, Royal Navy nurse Laura Thomasson, 23, from Dover, IT support manager Beverley Ashton, 29, from Wantage, Oxfordshire and Angela Madsen, a wheelchair-bound 50-year-old grandmother and former US marine from Long Beach California spent 51 days at sea in a tiny boat, ending their epic 2,000-mile journey at Tower Bridge in London , setting the world record for the First Women To Row Nonstop Around Britain while raising money for the servicesí charity, Help For Heroes.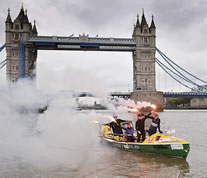 Photo: Celebrating with Flares after passing the finish line. (enlarge photo)

During that time the Seagals, as they are known were: swamped by huge waves which put the boatís water maker out of action; almost sunk by a rogue wave that flooded the front cabin, survived storms, navigated some of the most treacherous tides on the planet, almost been mown down by ships, bombed by the RAF and they have run short of food.

They have been bombed by the RAF after accidentally entering a live firing range and stalked by killer whales.

Sir Richard Branson who sponsored the event by awarding the first-ever Virgin Trophy to the winners, said: 'Go Seagals!!! I knew I was right to back to girls in beating the boys in the first ever Virgin GB Row and Iím over the moon that such brave women have achieved a World Record in such a spectacular fashion!

'This is why we set up the Virgin Trophy Ė Belinda, Angela, Laura and Beverley have pushed through extreme tiredness, hunger and serious injury to battle on and achieve the goal they set out to achieve.'

Virginís founder and Chairman Sir Richard Branson not only sponsored the event but the Seagals will be the first ever recipients of the Virgin Trophy, which Virgin will award to those who complete extraordinary challenges.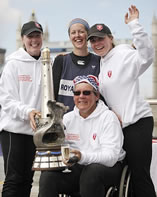 Photo: Bev, Laura, Belinda, and Angela (seated) after being presented with the Virgin Trophy having set a new World Record. (enlarge photo)

When they set out from Tower Bridge in London on June 1, they were taking part in Virgin GB Row 2010 - the worldís toughest rowing race.

They were racing a team of four men around the British mainland. But when the male team gave up after less than two weeks, the women carried on alone and without any assistance for five more weeks.

Skipper Belinda Kirk, 35, from Bristol said: 'When the menís team gave up the race at Landís End we were determined to make it to the finish but not one of imagined weíd be at sea for 51 days. 'With every day of delay itís been hard to keep going but we did it and weíre so proud of our achievement. I canít wait to get home and sleep in a bed for more than two hours at a time!'

Laura Thomasson said: 'Weíre so excited that the race is over. There were days at sea when we believed it would never end. Itís a fantastic feeling to be home.'

Beverley Ashton said: 'Without doubt the hardest aspect is the mental challenge, sure 12hrs of rowing a day is a physical test but it becomes a manageable, known quantity. 'Mentally there is a lot more to take on, the uncertainty of how long you'll be out here for, being confined to such minimal space, no personal space, constantly on top of others and little contact with the outside world; in addition to these, for me, the fact I find the open water an uncomfortable place to be.'

Paraplegic Angela Madsen, 50, from Long Beach, California said: 'I have rowed both the Atlantic and the Indian Ocean and rowing around Britain is certainly among the hardest Iíve ever done. Iím glad to be back.'

Website: http://seagals.co.uk/

Virgin GB Row 2010 was also sponsored by: Virgin Media and Virgin.com., Samsung, The Mary Rose Trust, and New Zealand lawn firm, Haigh Lyon.

Subscribe to our RSS News feed to receive updates.
Related world records:
Longest voyage by a boat made of plastic bottles - Plastiki

Longest distance traveled on a wakeboard - Wake Nation team

Longest sea voyage - Reid Stowe

Youngest to circumnavigate the globe - Jessica Watson

Youngest rower to cross an ocean solo - Katie Spotz

Longest solo kayak journey - Helen Skelton

Youngest to sail solo around world - Zac Sunderland

Most miles paddled in 24 hours on Stand Up Paddle Board - Justin DeBree

Longest Stand Up Paddle board journey - Justin DeBree

Fastest circumnavigation using Biodiesel - Earthrace

Fastest vertical circumnavigation - Adrian Flanagan

Longest distance traveled on a personal watercraft in a 24-hour period - Mike Pagliccia

Longest voyage by a wave-powered boat - Kenichi Horie

Wednesday, August 11, 2010