Longest voyage by a wave-powered boat-world record set by Kenichi Horie
TOKYO, Japan --The Suntory Mermaid II successfully completed late Friday night a 7,000-kilometre trip from Honolulu to the Kii Channel off the east coast of Japan, setting the world record for the longest voyage by a wave-powered boat.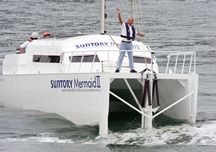 Kenichi Horie, the ecologically minded sailor who captained the Mermaid, reached his destination in the channel between the main Japanese islands of Honshu and Shikoku after covering some 7,000 kilometres (3,780 nautical miles). (enlarge photo)

At a dockside celebration on at Shin Nishinomiya Yacht Harbor, Horie told the gathering: "The time has come for us to shift from fossil fuels. I hope this voyage will increase awareness and interest in natural energy."

(enlarge photo) -AFP


Japanese sailor Kenichi Horie waves on the stern of his 3-ton yacht called the Suntory Mermaid II about 55 km off Cape Muroto, Kochi Prefecture (state), southern Japan. (enlarge photo)


image by Kevin Hand
(enlarge photo)

(enlarge photo)

(enlarge photo)

buy the book
The trip on the 3-ton, 31-foot catamaran, Suntory Mermaid II, took 110 day and covered almost 4,000 miles from the Hawaii Yacht Club's Aloha dock to the Japanese islands of Honshu and Shinkoku.

The design team originally estimated that the 10-metre-long, three-tonne catamaran, made partly of recycled aluminium, would average three to four knots per hour and arrive off the east coast of Japan about 60 days after its departure on March 16.

But unusually good weather and calm seas resulted in the boat travelling an average of only 1.5 knots per hour and the Mermaid's maiden voyage ended up taking 111 days. Nevertheless, Terao and his team were satisfied with the result.

The 9.5 metre (31-foot) boat is equipped with two special fins at the front which can move like a dolphin's tail each time the vessel rises or falls with the rhythm of the waves.

The journey was undertaken by a Japanese team to demonstrate that an environmentally sensitive propulsion system powered just by waves can operate in real-world conditions.

The bow-mounted mechanism, which harnesses wave power to provide a dolphinlike tail kick from two independently mounted flippers, was designed and built by Dr. Yutaka Terao of the department of naval architecture and ocean engineering at the Tokai University School of Marine Science and Technology in Japan.

Kenichi Horie, who will turn 70 in September, has set two world records for piloting environmentally sensitive boats, the first in 1993 for the longest distance travelled in a human-powered pedal boat, 4,660 nautical miles, the second in 1996 for the fastest Pacific crossing in a solar-powered boat, 148 days.

Horie first made headlines in 1962 when, at the age of 23, he became the first Japanese to sail solo across the Pacific Ocean.

He embarked on that voyage despite breaking Japanese law, which did not allow its citizens to sail on their own out of the country, and without a passport or money.

He was arrested upon arrival in San Francisco but the city mayor freed him, gave him a 30-day visa and made him an honorary citizen.

News of his achievement made him a hero back home in Japan and his book about the journey, "Kodoku: Sailing Alone across the Pacific", was made into a film. The Mermaid is on display in San Francisco.

Since then, he has completed numerous sailing trips across the Pacific and around the world. His projects have included sailing boats that rely on a single solar battery or are made from recycled materials.

In 1974 he circumnavigated the globe nonstop from east to west and in 1978 to 1982 from north to south.

In 1985 he made a solo voyage from Hawaii to Japan in a solar boat and in 1989 accomplished the smallest yacht solo Pacific crossing.

In 1992 to 1993 he made the solo voyage from Hawaii to Japan in a pedal powered boat.

In 1996 he made a solo Pacific crossing without stopping at any port from Ecuador to Tokyo in a solar boat – now you're talking - made of recycled aluminum, covering 10,000 miles in 148 days, the fastest crossing of the Pacific in a solar powered boat. Waveworks

In 1999, with sponsorship for a Japanese brewery, Suntory, he sailed Malt's Mermaid II in a solo Pacific crossing from the Golden Gate Bridge to Akashi Strait Bridge in Japan.

In 2002 he recreated his first solo trip across the Pacific in a replica of the original Mermaid made of recycled materials. The wooden hull was made from whiskey barrels, the mast from recycled aluminum cans and the sails of plastic bottles.

"I'll hold out until I reach triple digits," the silver-haired Horie said of his age as he greeted supporters in his home harbour in Nishinomiya in the west.

Mr Horie's latest trip would have taken 10 days in a regular diesel-powered boat. But he said he is raising environmental awareness. "The sea was so calm, and the weather was so great throughout my journey. That's why it took me so long," he said.
Sunday, July 13, 2008
Kenichi Horie's blog ; Suntory-Mermaid2