Wednesday, May 29, 2013

Highest swing ride: Texas theme park breaks Guinness world record (VIDEO)

ARLINGTON, TX, USA -- The 400-foot-high Texas SkyScreamer, at the Six Flags Over Texas theme park in Arlington, Texas, carries riders on open-air swing chairs attached to a giant tower; the 124 ft-wide gondola spins at a speed of 35 miles per hour upon reaching the top of the tower, setting the new world record for the Highest swing ride, according to the World Record Academy: www.worldrecordacademy.com/.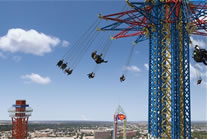 Photo: At the Six Flags Over Texas amusement park in Arlington, Texas, the world's tallest tower swing ride officially opened. The "Texas SkyScreamer" elevates twenty-four riders up 400 feet in open-air swings that spin in a 124-foot circle at 35 m.p.h.; at the highest point in the ride, people can see all of Arlington, as well as Dallas and Fort Worth, texas. Photo: Six Flags (enlarge photo)

The Guinness world record for the tallest swing measures 88 m (288 ft 8 in) from the seat to the top of the cross bar and was constructed by B!g Rush (South Africa) in Durban, South Africa.The swing was installed in the Moses Mabhida Stadium, where it was attached to the roof. Participants could swing from a platform across the football ground.

Guinness World Records also recognized the world record for the tallest swing carousel, called "Prater Turm," which is 117 metres (383.8 ft) and is operated by FUNTIME HandelsgmbH. It is located in the City of Vienna and was measured at the Vienna Recordia event in Vienna, Austria.

Up to 24 people at a time can enjoy panoramic views of the park below, as well as the Dallas Cowboys football stadium and Texas Rangers baseball stadium.

Riders can also see the cityscapes of downtown Forth Worth and Dallas, located about 15 miles east of Arlington.

"We are thrilled to add the tallest swing ride in the world to our premier lineup of rides and attractions," park president Steve Martindale said.

"It offers the most unique ride experience for an attraction of this kind, and also lives up to the Texas mantra that everything is bigger in the Lone Star state!" he added.
The next tallest SkyScreamer ride is at Six Flags Over Georgia and is 242 feet tall, but spins at 43 m.p.h.

Related world records:
Longest Ferris wheel ride: Clinton Shepherd breaks Guinness world record (VIDEO)

Highest Harlem Shake: British Airways breaks Guinness world record (VIDEO)

Oldest High School Graduate: Fred Butler breaks Guinness world record

Most kisses received on the hand in one minute: Veena Malik breaks Guinness world record (VIDEOS)

Most hugs given in 24 hours: Jeff Ondash breaks Guinness world record

Fastest theatrical production: Limelight company breaks Guinness world record

Most pillows stuffed into cases: IHG breaks Guinness world record (VIDEO)

Most party poppers popped: Alfie Deyes breaks Guinness world record (VIDEO)

Most sandcastles built in one hour: Adventure Wellington sets world record

Oldest family: Sardinian family sets world record

Most sandcastles built in one hour: Big Brothers Big Sisters sets world record

Longest Ferris Wheel ride: Christina Lochmiller breaks world record

Most banners in one parade: Loyal banners set world record (PICS)

Oldest graduate: Dr Allan Stewart sets world record

Most High-Fives in One Minute: Spike TV Host Katie Linendoll sets world record

Oldest Formerly Illiterate Author: James Arruda Henry sets world record (Video)

Baby Most Photographed with Celebrities: Tyler Sercombe sets world record (Video)

Most Charitable Nation: USA sets world record (Video)

Longest Hug: London sets world record (HD Video)

Oldest mattress: 77000 year-old bed sets world record

Most lit jack-o-lanterns displayed: Highwood sets world record (Video)

Largest number of beach umbrellas: Haeundae Beach (Video)

Fastest Typing on an iPad: Edward Saakashvili sets world record (Video)

Oldest college graduate: Leo Plass (Video)

Most potatoes launched in three minutes: Garrett Sweetland (Video)

Most consecutive days a child has worn a tie: James Funaro

Longest Crowd Surfing: DJ Giel Beelen (Video)

Longest dance marathon: Steve Stevens (HD Video)

Most snow angels made simultaneously: Nova Scotia (Videos)

First Beatles Masters Degree: Mary Kennedy

Longest Handshake: Team New Zealand and Team Nepal