Monday, July 23, 2012

Most banners in one parade: Loyal banners set world record (PICS)

Kesh, UK -- More than 350 loyal banners from across the UK and Ireland were proudly displayed in the Co Fermanagh village of Kesh , setting the world record for the Most banners on one parade, according to the World Record Academy: www.worldrecordacademy.com/.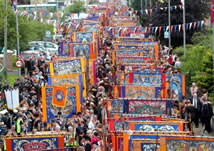 (enlarge photo)

The world record attempt was dreamed up by Orange men from Pettigo District and was organised to take place last night to mark both the Queen's Diamond Jubilee and the centenary of the signing of the Ulster Covenant.

The Guinness world record for the Longest banner was set by Rotary International PolioPlus India, which displayed a cloth banner measuring 50.4 km (31.3 miles) long and 1 metre (3.2ft) wide in Mumbai (Bombay), India.

Guinness World Records also recognized the world record for the largest banner: 54,451 m² (586,103.34 ft²), achieved by Grace Galindez-Gupana President of HalleluYAH Prophetic Global Foundation Philippines in Bar Yeuda, Massada, Israel.

District Secretary Gary Wilson said that organisers have been "overwhelmed" by the interest generated by the parade.

"England, Scotland, the Republic of Ireland and Northern Ireland lodges have all registered to attend and at present we know of 350 banners and up to 40 bands coming on the night," he said.

"This has been a fantastic spectacle of music, colour and culture the likes of which has never been seen in recent times"

Banners play a very big part in the Orange culture. They are the focal point of any lodge.

"They are a very expensive item," said Mr Wilson.
"They cost maybe £2,000 now and it's a real skill of the banner painter in his work and it's a masterpiece. It's a work of art.

Edward Stevenson, Grand Master of the Grand Orange Lodge of Ireland, was among those in attendance at last night's event.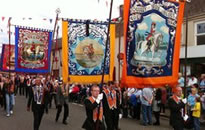 (enlarge photo)

"Banners are such an important expression of our culture. They are so colourful and each banner has its own history, unique to the lodge it represents," he said.

The most common subject of Orange banners is King William III on horseback, whose victory in the Battle of the Boyne is celebrated by thousands of Orangemen each year on 12 July.

As well as the world record bid, the event also included the annual opening of the only remaining Orange arch in Fermanagh.

Related world records:
Largest stadium banner: Penarol fans set world record (Video)

Most people waving historical banners: St Antonius Nieuw-Dijk sets world record (Video)

Longest Toran: Jyoti Chindak set world record (Video)

Longest Banner Wrap: the Red Tent Campaign

Largest aerial banner: Falcon Aviation Services

Largest Greeting Banner: AlpIQ

Monday, July 23, 2012 9:58 AM