Wednesday, June 15, 2011

Oldest college graduate: world record set by Leo Plass (Video)

REDMOND, Ore., USA -- Leo Plass, 99, received his diploma from Eastern Oregon University in La Grande - setting the new world record for the Oldest college graduate.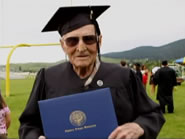 Photo: Leo Plass, The World's Oldest College Graduate. (enlarge photo)

The Guinness world record for the Oldest college graduate was set by Nola Ochs at the age of 95.

Guinness World Records also recognized the Oldest graduate: Allan Stewart (Australia, b. 7 March 1915) who received a Bachelor of Laws degree aged 91 years 214 days, when he graduated from the University of New England, New South Wales, Australia.

"They don't teach youngsters things they need to know about," he said. "When I was in school, that's about all they did teach. You learned how to cook, you learned how to sew and how to type."

...In his last year at Eastern Plass secured a job teaching at a 20-student school near Elgin. But the Depression had taken its toll on the La Grande bank where he kept his savings, gleaned from his summer and school-year jobs.

"I lost nearly $400 when it closed and didn't have money for tuition," Plass said.
"But I was offered $150 a month from a logging outfit — I was only going to make $80 teaching — so I quit school a semester before graduation."

He'd later learn he was just a few credits short of his teaching degree--and now he's finally completed those hours, notes The Observer.



Photo Above: Leo Plass keeps busy in his woodworking shop. Below: Plass was a member of both the basketball and football squad during his time at Eastern. (enlarge)

The university agreed to accept his career – including picking tomatoes, running a credit agency and owning a petrol station – in lieu of the final classes.

"Never dreamed of anything like this happening to me," Plass said. "It's always something out of this world.

He said he did not regret leaving university to take the logging job, but wished that 79 years ago he had realised just how close he was to having done enough work to graduate.

Asked for the secret behind his longevity, Mr Plass said simply: "Good family, good life, good food." He credited his late mother and wife with keeping him going.

Video: 99-Year-Old Gets His College Degree

Related world records:
Oldest college graduate: Nola Ochs

Oldest college graduate: Chao Mu-he

Oldest dance school graduate: Frederick Salter

Oldest yoga teacher: 89-year-old Gladys Morris

Oldest serving judge: Judge Wesley Brown

Oldest Practicing Doctor: Dr Walter Watson

Wednesday, June 15, 2011