Wednesday, November 2, 2011

Most lit jack-o-lanterns displayed: Highwood sets world record (Video)

HIGHWOOD, IL, USA -- Highwood officials announced that the official tally of carved and lighted pumpkins displayed downtown during the city's annual Pumpkin Fest was 30,919 - which sets the new world record for the Most lit jack-o-lanterns displayed in one location, according to World Record Academy (www.worldrecordacademy.com).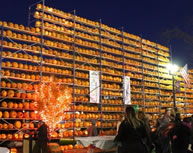 (enlarge photo)

The Guinness world record for the most lit jack-o-lanterns displayed in one location is 30,128 at an event organized by Camp Sunshine at the Life is Good Pumpkin Festival in Boston, Massachusetts, USA.

Guinness World Records also recognized the world record for the longest line of pies, which measured 161.75 m (530 ft 8 in) and was achieved by Randall D. Fox (USA) as part of the Chastain Park Arts Festival, Atlanta, Georgia, USA.

It was Highwood's second attempt at the world record.

Last year the city carved and lit more than 26,000 pumpkins during the at its annual Pumpkin Fest.

This year, the city vowed to light and carve more than 32,000 pumpkins in order to smash Boston's record.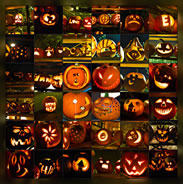 (enlarge photo)

There were scary pumpkins, funny pumpkins, even message pumpkins and each one was placed on tall scaffolding that lined 4 of the town's 5 downtown blocks.

Some 30,000 people from across the U.S. Midwest appeared at the Pumpkin Festival, which featured many booths selling treats made from vegetable,from traditional pumpkin pies to pumpkin mashed potatoes.

"With thousands and thousands of pumpkins, one might wonder what happens to them once the fesitval is over. Organizers say they'll be loaded up and driven to Northern Illinois where they will be fed to cows and pigs, " reports Fox Chicago News.

"Farmers tell them the animals love to eat them. In fact, to them it's like candy...Halloween candy."

Related world records:
Largest number of beach umbrellas: Haeundae Beach (Video)

Most Dogs in Pet Costume Parade: 337 dogs set world record

Fastest Typing on an iPad: Edward Saakashvili (Video)

Oldest college graduate: Leo Plass (Video)

Most potatoes launched in three minutes: Garrett Sweetland (Video)

Most consecutive days a child has worn a tie: James Funaro

Longest Crowd Surfing: DJ Giel Beelen (Video)

Longest dance marathon: Steve Stevens (HD Video)

Most snow angels made simultaneously: Nova Scotia (Videos)

First Beatles Masters Degree: Mary Kennedy

Longest Handshake: Team New Zealand and Team Nepal

Longest Name: Barnaby Marmaduke

Longest dance marathon: Kalamandalam Hemletha

Listening To The Same Song: Emil Ilic

Largest Operational Agricultural Plow: Manitoba Agricultural Museum

Longest Solo Handbell Marathon: Captain Ken Chapman

Longest Time Spinning Pillow On Finger: Derek Brown

Longest time survived underground after a mining accident: Chile miners

Lowest limbo by a woman: Shemika Charles

Largest Food Drive: "Fill the Bowl"

Wednesday, November 2, 2011