Friday, March 18, 2011

Largest fast-food chain: Subway sets world record (Video)

MILFORD, CT, USA -- Figures in the US reveal Subway has 33,749 restaurants across 95 countries - against 33,737 run by McDonald's - Subway setting the new world record for the Largest fast-food chain.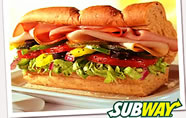 (enlarge photo)

The Guinness world record for the longest sandwich measured 634.50 m (2,081 ft) and was created by Pietro Catucci and Antonio Latte of EuroSpin in Mottola, Taranto, Italy.

Guinness World Records also recognized the largest sandwich: it weighed 5,440 lb (2,467.5 kg) and was made by Wild Woody's Chill and Grill, Roseville, Michigan, USA.

Like McDonald's, Subway's global growth is based on a franchise model - where businesses pay to run a Subway restaurant and are given marketing support by the organisation.

"We've been on a great run," said Tony Pace, chief marketing officer of Subway's Franchisee Advertising Fund Trust, the franchisees organization under the company's umbrella.

In recent years, US-based Subway has made a major push into international markets with its successful franchised business model, which emphasises small, low-cost outlets.

The privately-owned company said it had been "on a great run".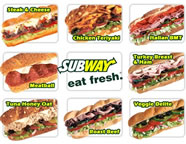 (enlarge photo)

The sandwich chain surpassed the world's largest hamburger chain in terms of number of stores in the United States in 2002 and now it has taken the global lead, with 33,749 restaurants worldwide at the end of last year. McDonald's had 32,737.

Subway, established in 1965, has restaurants in 95 countries. Now there is even a Subway at Bagram Airbase in Afghanistan.

They first ventured outside North America when a store opened in the small Middle Eastern island nation of Bahrain in December 1984.

Subway expects its number of international restaurants to exceed its domestic ones by 2020, says Don Fertman, Subway's Chief Development Officer.

Subway is entirely franchisee-owned. That has been part of its success, Pace said. Its smaller-format stores cost less to open and operate than other chain restaurants. The company's emphasis on cost-control, marketing and advertising has also helped grow the brand.

McDonald's, however, remains the industry's revenue champion, with US$24 billion (S$30.4 billion) in revenue for its last fiscal year.

Subway generated roughly $15.2 billion, according to a report by the Wall Street Journal. Subway, which is based Milford, Conn., is owned by privately held Doctor's Associates Inc. and does not publicly disclose its financial figures.

Related world records:
Longest Ham and Cheese Sandwich: Singapore students

Longest line of tacos: Emory University students

Most pizzas made in one hour: Brian Edler

Most expensive pizza: Margo's Pizzeria

Most pizzas made in 24 hours: Taft Domino's Pizza

Most expensive cheese sandwich: Chef Martin Blunos

Largest sandwich wrap: Union-Snyder County Habitat for Humanity

Longest line of sandwiches: Kraft Foods

Longest Pizza: Magillo Pizzeria

Largest 'Torta' Sandwich: Mexico City

Largest Open Sandwich: Tommy Moore

Longest ham sandwich: Nico Jimenez

Longest line of pizzas: Jerry's Pizza

Longest BLT sandwich: Bradley County Chamber of Commerce

Longest ostrich sandwich: Iran

Longest BLT sandwich: Windsor High School Culinary Arts

Tallest sandwich: Hotel Uday Samudra

Longest Line of Pizzas: Costa Cruises

Largest lobster roll: Portland

Friday, March 18, 2011