NEW WORLD RECORD
Longest Line of Tacos: City of Phoenix set world record

Thursday, February 17, 2011
Longest line of tacos: Emory University students set world record (Video)

ATLANTA, GA, USA -- Emory University students assembled 200 tortillas, 80 pounds of fish fillets, 45 pounds of cabbage, four gallons of salsa and other ingredients into 121 feet of fish tacos , setting the world record for the Longest line of tacos.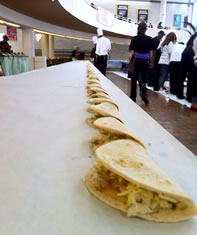 Photo: Emory students used more than 80 pounds of Alaskan cod, 45 pounds of organic vegetables and 4 gallons of salsa to make 260 fish tacos, which they lined end-to-end into The World's Longest Line of Tacos. Photo courtesy John Kessler/ Access Atlanta

The tacos were served up for lunch to highlight one of the newest additions to Emory's dining menu - sustainably grown fish.

There is no previous Guinness world record for the Longest line of tacos.

The Guinness World Record for the largest taco rice weighed 746 kg (1,644 lb 10 oz) and was made by Kincho Shokokai (Japan) at Nature Miraikan Koryu Hiroba in Kin-cho, Okinawa, Japan.

Guinness World Records recognized the largest flour taco in the world, which weighed 750 kg (1,654 lb) and was made by the city of Mexicali and Cocinex SA de CV, in Mexicali, Baja California, Mexico.

Over 121 feet long, the tacos were made with tortillas, sustainable cod supplied by the Alaska Seafood Marketing Institute, cabbage salad and salsa cruda.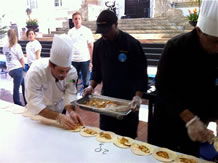 The recipe was developed by campus executive chef Michael Wetli.

Tacopalooza began shortly after noon, with tortillas donated by local producer Los Amigos overlapping on a U-shaped grouping tables.

Emory University: http://www.emory.edu

By 2015, the university hopes that 75 percent of its food will be locally or sustainably grown.

Subscribe to our free RSS News feed to receive updates.

Related world records:
Longest line of sandwiches - Kraft Foods

Longest Ham and Cheese Sandwich: Singapore students

Most pizzas made in one hour: Brian Edler

Most expensive pizza: Margo's Pizzeria

Most pizzas made in 24 hours - Taft Domino's Pizza

Most expensive cheese sandwich-Chef Martin Blunos

Largest sandwich wrap - Union-Snyder County Habitat for Humanity

Longest Pizza - Magillo Pizzeria

Largest 'Torta' Sandwich - Mexico City

Largest Open Sandwich - Tommy Moore

Longest ham sandwich - Nico Jimenez

Longest line of pizzas - Jerry's Pizza

Longest BLT sandwich - Bradley County Chamber of Commerce

Longest ostrich sandwich - Iran

Longest BLT sandwich - Windsor High School Culinary Arts

Tallest sandwich - Hotel Uday Samudra

Thursday, February 17, 2011