NEW WORLD RECORD
Largest open sandwich: Fremont sets world record (Video)

Saturday, July 10, 2010
Largest Open Sandwich - Tommy Moore sets world record
NEWBERN, NC, USA -- Tommy Moore of Moore's Barbeque, New Bern, made a giant sandwich ( in a 10-foot-square oven engineered by Glenn Snader) weighing in a whopping 1,336 pounds , setting the world record for the Largest Open Sandwich (Largest BBQ Sandwich).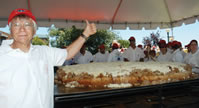 Photo: Tommy Moore poses with his World's Largest Open Sandwich. Photo courtesy Charlie Hall/Sun Journal. (enlarge photo)

Moore's masterpiece was baked in a specially designed 10-foot-square oven engineered by Glenn Snader.

The bun-making included using 561 pounds of dough made up of 350 pounds of flour, 10 gallons of milk and 17 gallons of water.

The 1,015-pound bun cooked for six and a half hours at 300 degrees. Crews added more than 300 pounds of barbecue and slaw to complete the record sandwich.

A crowd estimated at better than 2,500 formed a ring around the tent that housed the oven and bun at Union Point Park.
Sandwich weight: 1,336 pounds
Barbecue and slaw: 300 pounds
Dough: 561 pounds
Flour: 350 pounds
Milk: 10 gallons
Water: 17 gallons
Oven: Special design, 10-square-foot and 50 inches high, weighing 3,200 pounds
Bun cooking: 6˝ hours at 300 degrees
People served: More than 2,500
Servers: 30-member Bun Crew, Gov. Bev Perdue
After the huge sandwich was weighed, the crew began to shovel the ingredients into plates and served portions to everyone in the crowd.

Linda Staunch of the New Bern 300th team said 2,000 plates were available and all were used, with hundreds more getting their serving on napkins.

Gov. Bev Perdue of New Bern was on hand, congratulating Moore with providing a free lunch for the town and making this a great Independence Day in New Bern.

Subscribe to our RSS News feed to receive updates. Related world records:
Longest ham sandwich - Nico Jimenez

Longest line of pizzas - Jerry's Pizza

Longest BLT sandwich - Bradley County Chamber of Commerce

Longest ostrich sandwich - Iran

Longest BLT sandwich - Windsor High School Culinary Arts

Tallest sandwich - Hotel Uday Samudra

Longest Line of Pizzas - Costa Cruises

Largest lobster roll-world record set by Portland

Saturday, July 10, 2010