Thursday, January 20, 2011
Longest Ham and Cheese Sandwich: Singapore students set world record
SINGAPORE -- Republic Polytechnic's School of Hospitality opened its new Restaurant Training Laboratory by preparing a Ham and Cheese sandwich measuring 88 meters, which sets the world record for the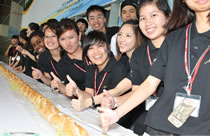 Longest Ham and Cheese Sandwich.

(enlarge photo)

The World's Longest Ham and Cheese Sandiwch was prepared by 70 staff and students from the school, and the measurement of the sandwich was certified by the National Metrology Centre to ensure that it meets international standards.

The is no previous Guinness World Record for the Longest Ham and Cheese Samndwich.

Guinness World Records recognized the largest open sandwich: a barbecue pork bun weighing 606.45 kg (1,337 lb) which was prepared by Moore's BBQ (USA) in New Bern, North Carolina, USA.

According to Guinness World Records, The World's Largest Sandwich weighed 5,440 lb (2,467.5 kg) and was made by Wild Woody's Chill and Grill, Roseville, Michigan, USA.

A total of $27,200.00 has already been pledged by corporate donors for the event and the money raised will go towards The Straits Times School Pocket Money Fund and the Republic Polytechnic Needy Student Fund.

Republic Polytechnic's School of Hospitality is also working with "Food from the Heart" to distribute the World's Longest Ham and Cheese Sandwich to 120 needy families.

"Operated wholly by students and patronised by real customers, the Restaurant Training Lab will expose students from the Diploma in Restaurant and Culinary Operations to the problems and operational issues that they will potentially face in a real-life situation.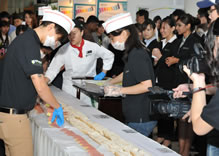 "Students will not only have to take charge of menu planning and food preparation but also front-end management such as restaurant operations and customer service. (enlarge photo)

"This initiative, which is in line with Republic Polytechnic's aim to nurture confident, analytical and creative problem solvers, will give students first-hand experience in all facets of restaurant and culinary operations beyond the classroom environment," said Albert Toh, Director, School of Hospitality, Republic Polytechnic.

Developed in consultation with industry partners and supported by various government agencies and organisations including the Singapore Tourism Board, SPRING Singapore, the Singapore Workforce Development Agency, the National Environment Agency and the Food and Beverage Managers Association, the diploma will provide students with opportunities to learn from experienced industry professionals.

On the Net: http://www.rp.sg

About Republic Polytechnic
The first educational institution in Singapore to adopt the Problem-Based Learning approach for all its diploma programmes, Republic Polytechnic (RP) has six schools and one centre offering thirty four courses in Information and Communications Technology, Engineering, Applied Science, Technology for the Arts, Sports, Health & Leisure, Events and Hospitality, and Culture and Communication.

Subscribe to our free RSS News feed to receive updates.

Related world records:
Longest line of sandwiches - Kraft Foods

Most expensive cheese sandwich-Chef Martin Blunos

Largest sandwich wrap - Union-Snyder County Habitat for Humanity

Largest 'Torta' Sandwich - Mexico City

Largest Open Sandwich - Tommy Moore

Longest ham sandwich - Nico Jimenez

Longest BLT sandwich - Bradley County Chamber of Commerce

Longest ostrich sandwich - Iran

Longest BLT sandwich - Windsor High School Culinary Arts

Tallest sandwich - Hotel Uday Samudra

Largest lobster roll - world record set by Portland

Thursday, January 20, 2011