Wednesday, July 18, 2012

Longest YMCA Dance: Mandan sets world record (PICS & VIDEO)

Mandan, ND, USA -- The YMCA Dance organized by the Mandan Independence Day Parade and Street Festival Committee on Main Street in Mandan, ND, covered 24 blocks and was 1.627 miles long - setting the new world record for the Longest YMCA Dance, according to the World Record Academy: www.worldrecordacademy.com/.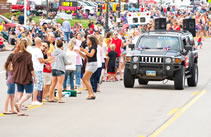 (enlarge photo)

The world's longest YMCA Dance was part of the annual Independence Day celebration in Mandan, ND.

The Guinness world record for the Largest Mambo Dance was set by 3,868 people who danced to Pérez Prado's Mambo No. 5 for five minutes at Palau Sant Jordi, Barcelona, Spain.

Guinness World Records also recognized the world record for the largest dance by couples; it consisted of 5,188 participants (2,599 couples) and was organised by Milka (Hungary) in Budapest, Hungary.

Other events included a 5k run, a classic car parade, art in the park, the region's largest parade and the longest running Rodeo in the USA dating back to 1879.

Mandan has set two previous world records on July 4th.

In 2010, a world record for the longest Chicken Dance was recorded.

In 2011, a world record for the largest Twist Dance by Chubby Checker was also set.

Since the event had proven to be popular, the parade committee set out to determine what should be attempted in 2012.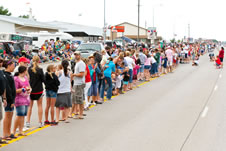 (enlarge photo)

A poll placed on the City of Mandan's website by business development director Ellen Hubor ask to see what dance should be used for a world record attempt on July 4th, 2012.

The overwhelming choice was the YMCA by the Village People.

"Y.M.C.A." is a song recorded by the American group Village People. It was released as the only single from the album Cruisin'.
The song reached No. 2 on the U.S. Charts in early 1979 and reached No. 1 in the UK around the same time, becoming the group's biggest hit. It is one of the fewer than thirty all-time singles to have sold 10 million (or more) copies worldwide.

"Other than some technical issues caused by the early morning wind storm, the event was an overwhelming success," stated Marlo Anderson, Mandan Parade co-chairperson.

"The turnout was amazing. People traveled here from many states and also meet a couple from England who traveled to Mandan, ND just to be part of the festivities," stated Dennis Freisz, Mandan Parade co-chairperson.

The world's longest YMCA Dance was sponsored by Security First Bank, Maple River Winery, Cool 98.7, Maple River Distillery, Awesome 2 Products, Centennial Shipping Products and the Mandan Progress Organization.

Related world records:
Largest Superman dance: Mill Hill School sets world record

Largest simultaneous flash mob: ViSalus set world record (168 Videos!)

Largest gathering of dancing dragons: Hong Kong sets world record (Video)

Largest lion dance display: Taiwan children set world record

Largest Twist dance: Mandan (Video)

Largest Macarena dance: UK students

Most Dancers en Pointe: Florida dancers (Video)

Largest Samba Dance: Krohn Conservatory (Video)

Largest Bollywood Dance: Melbourne dancers (Video)

Largest Umbrella Dance: Galveston

Largest dance party: Advertising Specialty Institute

Largest burlesque dance: Virgin Holidays

Largest Macarena dance: Ancaster High School students

Largest Zumba Class: North Lanarkshire Leisure

Largest clog dance: The Pella Tulip Festival

Largest Waltz: Tuzla

Largest Robot Dance: Simon Fraser University

Largest Can-Can dance: Irn Bru

Largest Cheerleading Dance: Baskin-Robbins

Largest hokey pokey dance: Belmar

Most people doing the Thriller dance: Michael Jackson's fans

Longest conga of people wearing wellies: Bicton

Longest Riverdance line: Rockland

Largest group of Bollywood dancers: BBC Blast

Largest number of Kuchipudi Dancers: Cupertino

Largest quadrille dancing: Zagreb seniors

Wednesday, July 25, 2012 4:58 AM