Monday, September 27, 2010

Largest sandwich wrap - Union-Snyder County Habitat for Humanity sets world record

LEWISBURG, Pa., USA -- Union-Snyder Habitat for Humanity and their partner Vic's Pub used 15 pounds of bacon and 175 wraps held together with about 1,200 toothpicks to create a 102 feet long sandwich wrap which sets the world record for the Largest sandwich wrap.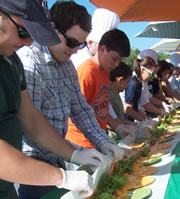 Photo: Wrap being Wrapped by All People at the same time. Photo by: Faith Hulslander. (enlarge photo)

The World's Largest sandwich wrap event, held on the grounds at Vic's in Lewisburg, brought out a crowd on a beautiful afternoon for a good time and a good cause: raising money to build affordable housing for local families in need.

"We wanted an event that would help us reach out to the community," said Tom Rambo, president of Habitat.
"Part of our goal is to make good, affordable housing for people. But the side benefit is that a lot of what we do helps the community as a whole."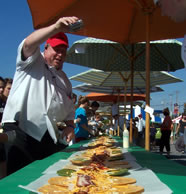 (enlarge photo)

Children waited out the Largest sandwich wrap construction on moon bounces and by playing games, while everyone watched in awe as about 30 employees of Vic's Pub and 20 chefs from the Pennsylvania College of Technology in Williamsport donned plastic gloves and layered turkey, bacon and mayo in front of a live band and enthusiastic crowd.

Breaking Ground, Breaking Records is intended to promote Habitat partnerships and raise awareness and support for the organization. Proceeds from the event will be used to build safe, affordable homes for local families in need.


(enlarge photo)

Many local businesses stepped up to support the event in partnership with Habitat, Union-Snyder Habitat President Tom Rambo said.

"All this was made possible with the sponsorships of local businesses who share in the mission of Habitat," Rambo said."Special thanks go to Vic's Pub, Blaise Alexander Ford, SUN Orthopedic Group, the Son's Power, CITGO, and Susquehanna Valley Hearing Professionals for being sponsors of the event."

Habitat's goal is to fulfill the dream of home ownership with simple, basic homes for families in need. The organization has partnered with 18 families since it was founded in 1991.

Families must be able to pay a no-interest mortgage and commit to 250 hours of "sweat equity," by helping with construction of their own home and working on future affiliate projects. They also must complete a home ownership course.

It costs about $80,000 to build a Habitat home. Families pay back Habitat through interest-free mortgages, and payments are put in the Fund for Humanity or future home construction.
Volunteers complete the majority of the labor to build the home.

Link: Largest sandwich wrap Photo Gallery

For more information about this inaugural event, please visit www.ushfh.org or call 1-888-995-4387.

Subscribe to our free RSS News feed to receive updates.

Related world records:
Largest 'Torta' Sandwich - Mexico City

Largest Open Sandwich - Tommy Moore

Longest ham sandwich - Nico Jimenez

Longest line of pizzas - Jerry's Pizza

Longest BLT sandwich - Bradley County Chamber of Commerce

Longest ostrich sandwich - Iran

Longest BLT sandwich - Windsor High School Culinary Arts

Tallest sandwich - Hotel Uday Samudra

Monday, September 27, 2010