Tallest sandwich-world record set by Hotel Uday Samudra

[Nov 19] KOVALAM, India--Hotel Udaya Samudra in India has built a 50-foot sandwich after a 10-hour long hard work and set the new world record for the tallest sandwich.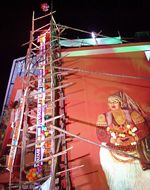 Some 40 employees at Uday Samudra Leisure Beach Hotel in Kovalam worked for 10 hours to make the largest sandwich, surpassing the record set by O'Brien's Irish Sandwich Bar that made a 42-foot sandwich on April 25, 2003.
(enlarge photo)

The 125-decker "Wonder Loaf" sandwich displayed at Uday Samudra was 50 feet high and 2.5 feet by 2.5 feet across the circumference containing more than 500 kgs of vegetables, 250 kgs of meat and other related ingredients.

Uday Samudra Corporate director Rajagopal Iyer told Deccan Herald: "The event is dedicated to the poor people of India and the revenue out of this will be served to the various poor homes in the city."

"We are presenting this sandwich to the entire nation as a gift. For quite sometime now, no record has been created on food products in India. We have done this, made the sandwich and broken the world record," said Iyer.

He said the original plan was to finish it in four hours but the heavy monsoon rains forced the staff to knit together an awning over the scaffolding to prevent rain from washing down the product.

"You have beaten the Irish. That's simply great," quipped Briton Paul Webster, a retired police officer, on holiday in the beach resort. The hotel had made news when it organized the marriage of two elephants last year.

Enthusiastic bakers perched on to specially mounted wooden platforms along the sides of the hotel building to create the record-breaking loaf on World Food Day.

The stuffing of the monster sandwich weighing around 3.5 tons include cucumber, 30 kg; carrot, 100 kg; onions, 200 kg; cabbage, 150 kg; lettuce, 1,500 leaves; butter, 40 kg; mayonnaise, 20 kg; white pepper powder, 15 kg; cheese, 50 kg; tomato, 40 kg; beetroot, 35 kg; gherkins, 10 kg; potato, 35 kg; chicken, 50 kg; bacon, 25 kg; ham, 25 kg; sausage, 25 kg; egg, 1,000; maida, 1,700 kg; sugar, 200 kg; yeast, 84 packets; bread improver, 25 kg; margarine, 30 boxes and salt, 40 kg.

The detailed measure of this 125 decker sandwich was as follows : Weight of each loaf - 5.700 kg,
Total quantity of bread used -1140 kg,
Total quantity of stuffing-750 kg.

The hotel has already spent Rs 2.24 lakh on the sandwich. The sandwich was dismantled and supplied to pig farms near the hotel.


[ Submit a world record ] [ World Record Certificate]
[ Book of World Records ] [ World Records Store ] [ Club ]


Strongest Ear-Lasha Pataraia


Fastest talking female-Fran Capo


Largest passenger plane-Airbus A380


Fastest 10K race-by Hillary Kimaiyo