Sunday, August 19, 2012

Largest omelette: Portuguese chefs breaks world record

LISBON, Portugal -- During a festival that takes place in the town of Ferreira do Zêzere, in the central city of Santarém, Portuguese chefs cooked a giant emelette, using 45,000 free range eggs which were poured into an enormous pan along with 880lbs of oil and 220lbs of butter; with the omelette weighing in at a whopping 6.466 tonnes (14, 225 lbs. 6 oz.), they set the new world record for the Largest omelette, according to the World Record Academy: www.worldrecordacademy.com/.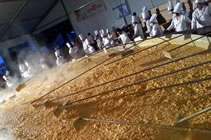 Photo: The World's Largest Omelette. (enlarge photo)

The previous Guinness world record for the largest omelette was a 4.401 tonnes (9,702 lb 8 oz) omelette cooked up in Ankara in Turkey in October 2010.

Guinness World Records also recognized the longest sandwich; it measured 634.50 m (2,081 ft) and was created by Pietro Catucci and Antonio Latte.

The pan used for the challenge was inspiring in itself, measuring over 10metres in diameter and weighing 9458lbs.

Once the chefs had been briefed, a total of 150 people took to the pan in shifts, using huge flat scrapers that were designed to keep the mixture moving.

The volunteer chefs continually scrapped and pulled the mixture under the watchful eye of head chef Pedro Mendes for six hours.

After the scales had finally settled, Guinness World Records adjudicator was able to confirm the egg-cellent news to the chefs that they had indeed set a new world record, with the omelette weighing in at a whopping 6.466 tonnes (14, 225 lbs. 6 oz.)>

Related world records:
Largest Omelette: Turkish chefs

Largest Asparagus Omelette - Italian Chefs

Largest bowl of porridge - Scott's Porage Oats

Largest Bowl of Oatmeal- Agriculture and Agri-Food Canada

Most Expensive Ham - Manuel Maldonado

Largest breakfast served on a single plate - The Sun

Largest batch of scrambled eggs - McDonald's

Largest bowl of porridge - Mornflake Oats

Largest Peasant Omelette - Master Chef Stefan Bercea

Sunday, August 19, 2012 9:54 AM