Friday, January 6, 2012

Largest collection of Converse sneakers: Penny Gold sets world record

Lake Mary, Fla., USA -- Retired third grade school teacher, Penny Gold, 63, owns 733 different pairs of Converse low-top and high-top sneakers - setting the new world record for the Largest collection of Converse sneakers, according to World Record Academy (www.worldrecordacademy.com).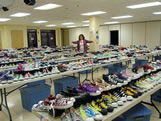 Photo: Penny Gold, of Lake Mary surrounded by 733 pairs of Converse sneakers, The World's Largest Collection of Converse Sneakers. Photo courtesy Penny Gold (enlarge photo)

The Guinness world record for the largest collection of Converse shoes belongs to Joshua Mueller of Lakewood, United States, with 403 different pairs of Converse shoes.

Guinness World Records also recognized the world record for the most expensive pair of sneakers, set by a pair of high-top Nike Dunks dipped in 18-garat gold as part of a fashion show in New York, USA. Five pairs were made, costing $4,053. each.

Guinness World Records also recognized the world record for the most people dressed as Robin Hood: 1,119 at Castle Green, Nottingham, UK.

Gold reportedly grew up wearing Converse sneakers in Brooklyn, N.Y. She and her husband, Barry, moved to Florida 20 years ago, when she began to collect the shoes, according to the Orlando Sentinel.

The shoes vary in appearance. There's sparkly, colorful, and clear. Some have comic book characters, band names, and then there are those that get plain outrageous.

Gold has pairs ranging from music-themed sneakers featuring Metallica and the Doors to comic-style Chucks with Batman and Robin on them to ones with a red-and-white tablecloth design and a 3-D fried egg on them. Her prized pair is designed with a map of the New York City subway system on them that shows the stops where she used to get on and off while attending Baruch College.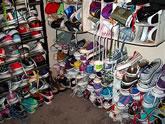 Photo: Penny Gold's closet boasts the world's largest collection of Converse sneakers. Photo courtesy of Penny Gold. (enlarge photo)

Gold reportedly visits Converse outlets regularly in Central Florida, where the employees know her by name and set aside the most unusual pairs for her collection, the paper added.

Every pair she has purchased has been done in person, as she has not bought any off eBay.
She admits some just aren't her taste. "I like the colorful ones, but some of them are a little outrageous."

Gold spends up to $20 a pair. Right now, she has 733. That's nearly $15,000 on shoes. Still, her husband doesn't seem to mind."We're married 40 years, I have no choice," says Barry Gold.

Related world records:
Largest collection of miniature shoes: K. B. Shivashankar

Largest collection of beaver-related memorabilia: Betty Davis (Video)

Largest collection of autographed baseballs: Dennis Schrader (Video)

Largest gum collection: Sarah Maughan

Largest Collection of Board Games: Jeff Bauspies

Largest collection of flamingos: Sherry Knight (Video)

Biggest comic book collection: Brett Chilman

Largest collection of fire patches: Bob Brooks (Video)

Largest instant camera collection: Wong Ting Man (HD Video)

Largest Collection of Coca-Cola Memorabilia: The Schmidt Museum (HD Video)

Largest love doll collection: Bob Gibbins (Video)

Largest collection of sick bags: Niek Vermeulen

Largest Toy Collection: 'Jerni Collection' by Jerry Greene

Largest collection of milk bottles: Paul Luke

Largest collection of Beatles memorabilia: Rodolfo Vazquez

Largest Collection of Clocks: Bill Williams

Largest collection of unopened Coca-Cola bottles: John Burley

Largest collection of thermometers: Richard T Porter

Largest collection of salt-and-pepper shakers: Dorena Young

Largest collection of tea caddies: Graham Brooks

Largest Rubber Duck Collection: Charlotte Lee

Largest Easter Egg Collection: Easter Egg Museum in Poland

Largest collection of bunny memorabilia: The Bunny Museum

Largest collection of crab memorabilia: Dr Darren Martin

Largest toothpaste collection: Dr. Val Kolpakov

Largest collection of banana related items: Ken Bannister

Largest Yo-Yo collection: Dr. John Meisenheimer

Largest Signed Game-Used Jersey Card: Panini America

Largest Pokémon Collection: Lisa Courtney

Largest collection of Simpsons memorabilia: Glynne Williams

Largest collection of miniature chairs: Barbara Hartsfield

Largest collection of Pooh & Friends memorabilia: Deb Hoffmann

Largest collection of cow-related items: Denise Tubangui

Largest movie camera collection: Richard LaRiviere

Largest collection of trolls: Sophie Marie Cross

Highest auction price for a doll: Marque

Largest Napkin collection: Marilyn Boyle

Largest privately owned auto collection: LeMay Museum

Largest Barbie doll collection: Bettina Dorfmann

Most expensive letter from Titanic: Spink Smythe

Largest Mickey Mouse collection: Janet Esteves

Largest Business Card collection: Brandon Rayner

Largest collection of Santa Claus memorabilia: Jean Guy Laquerre

Largest private collection of movie cameras: Dimitris Pistiolas

Largest collection of handmade aeroplanes: John Kalusa

Smallest Museum: Edgar's Closet Museum

Most expensive newspaper copy: Romanian newspaper

Largest collection of ladybug-related items: Sheri Gartner

Friday, January 6, 2012