Most expensive letter from Titanic-world record set by Spink Smythe

NEW YORK, NY, USA -- A letter, dated April 10, 1912, from a first class passenger onboard the Titanic (written by passenger George Graham of Harriston of Canada, a sales manager for the Eaton's department store company, to a business colleague in Berlin, Germany) was sold at auction by Spink Smythe in New York City for $16,100-setting the world record for the Most expensive letter from Titanic.


(enlarge photo)

George Graham wrote: "I am sorry that I neglected to send you a wire on the first of April but I forgot all about it until Tuesday, you see.
I arrived in London Late Sunday and I was very busy all day Monday and I forgot all about it however, I hope that you will accept my good wishes now even if they are a bit late.
I hope to see you next year and that you and your good wife will enjoy good health."

Second page folds closed to form a postal cover with White Star's logo on verso of cover and a 2-1/2 penny stamp on the address leaf. Uneven toning to first page and address page from prior display.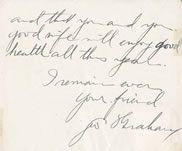 Four plastic tape remnants on verso of first page and five on recto of second page, all at edges and none affecting readability.

(enlarge photo)

Otherwise VG. Mr. Graham joined the Titanic at Southampton with first-class ticket 112053 and was berthed in cabin B-52.

On her maiden voyage the Titanic struck a North Atlantic iceberg and sank within hours early on the morning of April 14, 1912.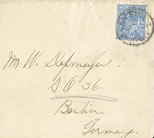 The letter in the auction was placed in the mail from Southhampton, England just prior to the ship's departure on April 10 for its never-completed trans-Atlantic crossing to New York City. (enlarge photo)

Graham did not survive the sinking.
"Hours before the ship struck an iceberg, Graham wired his wife back in Canada saying he was well and indicating he would be in New York City on Wednesday.
She received the wire on Tuesday morning, when news of the disaster was on everyone's lips, and mistakenly took it to mean her husband survived," explained Litzenberger.

"Days later she was informed his body had been recovered from the North Atlantic."

Letters written aboard the Titanic are among the most scarce and desirable articles connected with the tragedy.

About Spink
Spink is the world's leading auctioneer of coins, stamps, medals, banknotes, bonds, share certificates and autographs, with offices in London, Singapore, New York and Dallas.

Monday, February 23, 2009

Related world records:

Largest Mickey Mouse collection-world record set by Janet Esteves

Largest Business Card collection-world record set by Brandon Rayner

Largest collection of Santa Claus memorabilia-world record set by Jean Guy Laquerre

Largest private collection of movie cameras-world record set by Dimitris Pistiolas

Largest collection of handmade aeroplanes-world record set by John Kalusa

Smallest Museum-world record set by the Edgar's Closet Museum

Most expensive newspaper copy-Romanian newspaper sets world record

Largest collection of ladybug-related items -world record set by Sheri Gartner