Wednesday, October 19, 2011

Largest collection of autographed baseballs: Dennis Schrader sets world record (Video)

ODESSA, FL , USA -- Dennis Schrader, 65, a semi-retired mobile home excutive, has collected and dealt in signed memorabilia seriously for about 25 years; he is now the owner of 4,020 baseballs signed by major league baseball players , setting the world record for the Largest private autographed baseball collection, according to World Record Academy (www.worldrecordacademy.com).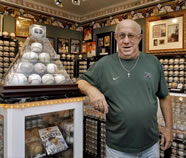 Photo: Dennis Schrader poses for a portrait with his autographed baseball collection in his Odessa, Fla., home. AP photo (enlarge photo)

The Guinness world record for the Largest collections of rubber ducks was set by Charlotte Lee (USA), who has 5,631 different rubber ducks.

Guinness World Records also recognized the world record for the largest collection of trolls, which belongs to Sophie Marie Cross (UK), who has 633 unique items.

Schrader, 65, got hooked on collecting signed baseballs when he was 9 and New York Yankee star Mickey Mantle signed one for him at spring training.

The semi-retired mobile home executive now boasts more than 4,000, some so rare that it's hard to put a price on them.

Though Schrader traces his obsession to the first ball signed by Mantle, alas, that one is not part of his record-
setting collection. Like a lot of kids in the 1950s who didn't realize how valuable autographs would become, he went out and played baseball with it.

He even has a ball signed by Joe DiMaggio and Marilyn Monroe during their brief marriage. He paid $25,000 for it. Another one just like it sold at auction a few years ago for $191,000.

One of his latest acquisitions is another DiMaggio ball, inscribed to team owner Del Webb when the Yankee Clipper retired in 1951. That one set him back $5,000.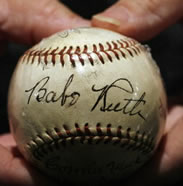 Photo: What autograph collection would be complete without a Babe Ruth baseball? Dennis Schrader has nine of them. AP photo (enlarge photo)

Schrader, who grew up in nearby Largo, is a likable curmudgeon who loves to talk baseball and show people around what he has dubbed "Little Cooperstown" in his posh home on a golf course north of Tampa.

His baseballs — which he figures are worth $2 million to $3 million — are displayed in a 12-by-14-foot room that has walls a foot thick, a bank vault door, motion sensors and video-camera surveillance.

Guinness World Records certified him as the owner of 4,020 baseballs signed by major league baseball players. Duplicates and balls signed by non-baseball celebrities — including President Barack Obama — bring his collection of baseballs to 4,600.

Schrader insists that home's security measures, plus the fact that he keeps some guns around, make it pointless for him to insure the collection.

"It's fireproof, it's bomb proof," he says of his showroom/vault. "If there's a tornado warning, we come in here with a beer and sit down."


Related world records:
Largest gum collection: Sarah Maughan

Largest Collection of Board Games: Jeff Bauspies

Largest collection of flamingos: Sherry Knight (Video)

Biggest comic book collection: Brett Chilman

Largest collection of fire patches: Bob Brooks (Video)

Largest instant camera collection: Wong Ting Man (HD Video)

Largest Collection of Coca-Cola Memorabilia: The Schmidt Museum (HD Video)

Largest love doll collection: Bob Gibbins (Video)

Largest collection of sick bags: Niek Vermeulen

Largest Toy Collection: 'Jerni Collection' by Jerry Greene

Largest collection of milk bottles: Paul Luke

Largest collection of Beatles memorabilia: Rodolfo Vazquez

Largest Collection of Clocks: Bill Williams

Largest collection of unopened Coca-Cola bottles: John Burley

Largest collection of thermometers: Richard T Porter

Largest collection of salt-and-pepper shakers: Dorena Young

Largest collection of tea caddies: Graham Brooks

Largest Rubber Duck Collection: Charlotte Lee

Largest Easter Egg Collection: Easter Egg Museum in Poland

Largest collection of bunny memorabilia: The Bunny Museum

Largest collection of crab memorabilia: Dr Darren Martin

Largest toothpaste collection: Dr. Val Kolpakov

Largest collection of banana related items: Ken Bannister

Largest Yo-Yo collection: Dr. John Meisenheimer

Largest Signed Game-Used Jersey Card: Panini America

Largest Pokémon Collection: Lisa Courtney

Largest collection of Simpsons memorabilia: Glynne Williams

Largest collection of miniature chairs: Barbara Hartsfield

Largest collection of Pooh & Friends memorabilia: Deb Hoffmann

Largest collection of cow-related items: Denise Tubangui

Largest movie camera collection: Richard LaRiviere

Largest collection of trolls: Sophie Marie Cross

Highest auction price for a doll: Marque

Largest Napkin collection: Marilyn Boyle

Largest privately owned auto collection: LeMay Museum

Largest Barbie doll collection: Bettina Dorfmann

Most expensive letter from Titanic: Spink Smythe
Largest Mickey Mouse collection: Janet Esteves

Largest Business Card collection: Brandon Rayner

Largest collection of Santa Claus memorabilia: Jean Guy Laquerre

Largest private collection of movie cameras: Dimitris Pistiolas

Largest collection of handmade aeroplanes: John Kalusa

Smallest Museum: Edgar's Closet Museum

Most expensive newspaper copy: Romanian newspaper

Largest collection of ladybug-related items: Sheri Gartner

Wednesday, October 19, 2011