Friday, May 7, 2010

Highest Heel Sandals - world record set by designer Mihai Albu

BUCHAREST, Romania -- Romanian designer Mihai Albu has come out with a new pair of hand-crafted sandals that increase a woman's height by 12 inches (31 centimeters), are selling for up to $1,525 (euro1,200) and sets the world record for the Highest Heel Sandals.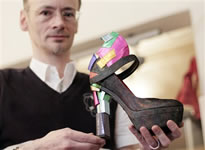 Photo: Romanian shoe designer Mihai Albu is scaling new heights with his 12-inch heels, the latest in a series of skyscraper shoes by the former architect in line with international fashion trend for incredibly high heels. AP Photo/Vadim Ghirda (enlarge photo)

It blends high-tech architecture with design and only comes in small sizes. "If a woman is 5 foot 9 (175 centimeters), she'd be towering above everyone if she wore these," he said.

"Heels have an advantage because (many women) don't have long legs," said Mihai Albu, who's had a 20-year love affair making stilettos. "They reposition the waist," he said in an interview for the AP.

The new World's Highest Heel Sandals are being compared to skyscrapers because of their towering heels. High heels have become fashionable, but Albu's are at least twice the height of ones that international designers have been flirting with for several years.

Albu, a former architect, blends math, architecture and art in his creations, which are more foot sculpture than regular footwear. He uses French leather and encrusts it with jewels, feathers, mirrors, and taps into Romanian women's perennial love affair with high heels.

Albu has designed shoes with three heels (two of which are decorative, of course), a pair of boots that resemble glass vases, and "unicorn-like" boots with a heel in the front.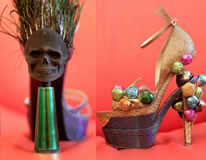 Photo: The latest creations from Romanian 'shoe architect' Mihai Albu, which cost up to £1,100, are made of leather, peacock feathers, jewels and mirrors. (enlarge photo)

His latest creation, the 12.2 inch heel sandal, is a construction of three black wedge sandals.
Despite the price, Albu says he has received dozens of orders for his new sandals from Romania's well-heeled.

"I am creating a constructed chaos," he said, describing his extravagant sandals in architectural terms.

Photo Gallery: Highest Heel Sandals Photos
Video: Highest Heel Sandals Video

Albu draws inspiration from Romanian sculptor Constantin Brancusi and Spanish architect Antonio Gaudi, and he never shops at the mall.

"I keep an eye on major shoe designers, so I know what not to make," he joked, although his latest creations follow the latest trend for higher and higher heels.

Subscribe to our RSS News feed to receive updates.

Related world records:
Longest wedding dress-world record set by Ling Rong

Longest bracelet (chain of beds)-world record set by Alayna Salter

Largest Silver Clock-Sukra Jevellery sets world record

Longest chain of shoes-National Geographic Kids magazine sets world record

Friday, May 7, 2010