Thursday, August 6, 2009

Longest wedding dress-world record set by Ling Rong

JILIN City, Jilin Province, China -- Lin Rong, a 25-year-long bride, dressed in a 2,162-meter-long wedding gown handmade by her groom's family on her wedding day-setting the world record for the Longest wedding dress.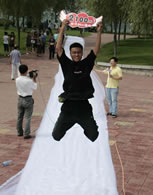 Photo: Zhao Peng, 28, jumps to celebrate as the world's longest wedding dress train he makes to please his bride-to-be is unveiled at Jiangbin Park in Jilin, northeast China's Jilin province. It takes nearly three hours to unveil the train, which is 2,162 meters long and 1.5 meters wide. (enlarge photo)

More than 200 wedding guests took more than three hours to completely unroll the Longest wedding dress, and pin 9,999 red roses made of silk on the wedding train Thursday morning, before the bride put on the Longest wedding dress .

The plan was elaborated by the groom Zhao Peng, a 28-year-old railway worker. "Both the length of the dress and the number silk roses pinned on the wedding dress can make history" said the groom.

After the wedding, he cut the dress to 1,984.1,022 meters, the number of his bride's birthday.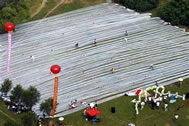 Photo: An aerial view shows the length of the Longest wedding dress during a wedding ceremony in Jilin city. / REUTERS (enlarge photo)

"I also had 608 crystals stitched on the dress train in memory of our 608 dating days, starting from the first time I met with her," he said.

The 25-year-old bride, Lin Rong, who is a school teacher, laughed and cried at the romantic gesture.

Zhao said he was actually inspired by the Guinness world record of the Longest wedding dress made in Romania in April when he planned his wedding. "I do not want a cliche wedding parade or banquet," said the groom, "nor can I afford the extravagance of a hot balloon wedding."

WRA's note: that previous "record" may be considered a cheap publicity stunt and not a valid record (by our standards and common sense) simply because the a wedding dress needs to be used by a bride, to make the record valid.

He bought the materials and asked his relatives for help in making the Longest wedding dress by hand, which has taken three months to finish, and cost him some 40,000 yuan (5,856 U.S. dollars).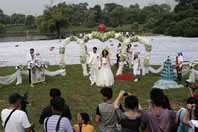 Photo: The couple during their wedding ceremony in Jilin city, Jilin province. / Reuters
(enlarge photo)

But when he first came out with the idea, it was strongly opposed by his family. "It is a waste of money in my opinion," said Zhao's mother. "Though I understand that he wants to show his love on the big day."

Zhao finally persuaded the whole family. His aunt, a dressmaker, agreed to make the design of the Longest wedding dress. Other family members helped search for wedding information, select dress patterns, buy the materials, do lacework, make the silk roses and stitch crystals on the Longest wedding dress.

Related world records:
Largest Bride Parade-world record set in Bucharest

Largest Wedding Vow Renewal set world record in Bucharest

Longest rosary-world record set by Mohammed Alasiri

Largest Ball of Paper-world record set by Enrique Miramontes and Ricardo Granados

Longest cigar-world record set by Jose Castelar

Largest sock monkey-world record set by Cherylle Douglas

Largest Coin-like Medallion-world record set by Damas

Longest bracelet (chain of beds)-world record set by Alayna Salter

Largest winter footwear-world record set by Tsar-Valenok

Largest rubber band ball-world record set by Joel Waul

Biggest hand written Bible-world record set by Sunil Joseph

Longest string of prayer beads-world record set by Mustafa Kara

Largest Ball of Plastic Wrap-world record set by Jake Lonsway

Thursday, August 6, 2009