Largest Ball of Plastic Wrap-world record set by Jake Lonsway

[June 21] BAY CITY, MI, US-- 7-year-old Jake Lonsway has broken the previous world record for the largest ball of plastic wrap by 31.5 pounds, with a 281.5-pound ball.It took eight months for the young Jake Lonsway to create this giant ball.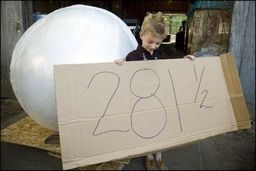 Photo:
Seven-year-old Jake Lonsway of Bangor Township shows his record-breaking ball of plastic wrap, weighing 281.5 pounds, at the offical weigh-in at T.M. Klein and Sons Honey Farm in St. Charles, on June 14, 2007. His feat will shatter the previous record of 250 pounds held by Andy Martell of Toronto, set in 2005. Julie Grames, Lonsway's mother, says the giant ball no longer will live in their garage, but rather find a new home at the Mid-Michigan Children's Museum in Saginaw.
Photo by Sarah Moore Kuschell / Associated Press
(click here to enlarge photo)

It was weighed last Thursday in St. Charles, at a honey farm. Its circumference is also 10" larger, at 138". Jake said, "I was probably expecting it to be the record."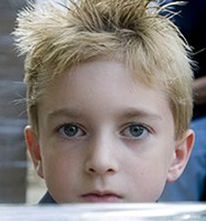 Jake Lonsway got the idea after his mom wouldn't let him take part in breaking the record for the most people simultaneously wearing Groucho Marx glasses. Not to let Jake down, his parents scanned the Guinness book for another record he could try to beat. After his mother brought home a softball-sized ball, friends and family donated plastic wrap.

There have been attempts to break this record in the past, but storage and transportation of a giant ball of plastic wrap is not an easy task. Trying to stop an out of control ball of plastic wrap can turn into a dangerous task for anyone.